Manny Pacquiao may not retire - trainer Freddie Roach
Last updated on .From the section Boxing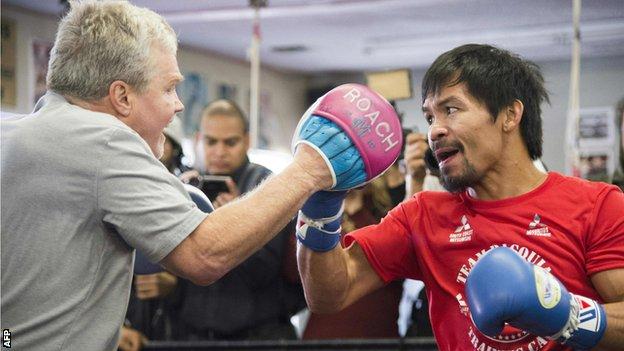 Manny Pacquiao may fight on after his world title bout against Timothy Bradley, says trainer Freddie Roach.
Filipino Pacquiao, 37, has hinted that Saturday's Las Vegas fight will be the last of a career in which he has won world titles at six different weights. 
But Roach said: "I do think Manny has more quality fights in him. His power, speed, work ethic are still superior to most others." 
Pacquiao and American Bradley have fought twice before, with one win each.
Pacquiao, who lost his previous fight last year to Floyd Mayweather, has political ambitions and is running for a seat in the Philippines senate.
WBO welterweight champion Bradley, 32, has won five world titles and lost only once in his professional career.
American Roach, who has also trained former world champions Mike Tyson, Miguel Cotto and Oscar de la Hoya, added: "I personally don't know if this will be Manny's last fight but he is training like it's going to be his last fight.
"Manny has achieved so much in his boxing career and if this is going to be his swansong I know he wants to go out blazing with a spectacular performance."