Barry McGuigan criticises 'appalling' Tyson Fury after online remarks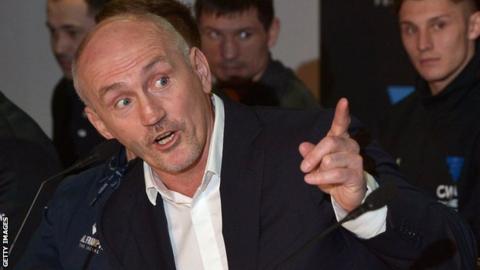 Barry McGuigan has called Tyson Fury "appalling" and told him to "grow up" after receiving online abuse from Britain's world heavyweight champion.
Fury, 27, was filmed making homophobic, sexist and anti-Semitic comments in a video posted on YouTube last week.
He had labelled McGuigan a "traitor" on Twitter in response to criticism from the former featherweight champion.
"Tyson is appalling and comes out with some appalling stuff," McGuigan, now a promoter and commentator, said.
"He was unnecessarily abusive towards me and my past and he can't behave like that - grow up Tyson and catch a grip of yourself."
The WBA and WBO heavyweight champion also voiced his views on bestiality and paedophilia during last week's 57-minute YouTube broadcast.
McGuigan had described Fury as "like a child [who] has no filter, no off button", in a column for the Daily Mirror.
Fury then labelled McGuigan "a traitor to your home country" in response on Twitter.
The Campaign Against Antisemitism (CAA) has called on Fury to be barred from boxing following his comments.