Katie Taylor: Ireland's Olympic champion edges closer to place at Rio Games
Last updated on .From the section Boxing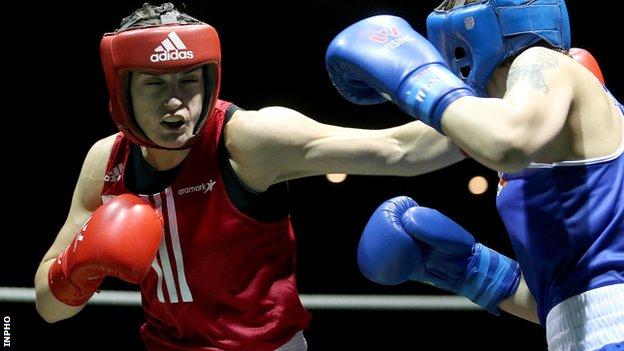 Ireland's London 2012 gold medallist Katie Taylor won her opening bout at the World Championships to edge closer to a spot at the Rio Olympic Games.
Lightweight Taylor needs to qualify for the semi-finals in Kazakhstan to guarantee her Olympic berth.
The Irishwoman, 29, beat Swede Agnes Alexiusson on a unanimous decision to reach the last 16 in Astana.
Taylor, aiming for a sixth world title, was surprisingly beaten in the Olympic qualifier in Turkey last month.
The Wicklow boxer will fight in the last 16 on Monday, with the quarter-finals the following day in Kazakhstan.
Taylor took a 40-36, 40-36 and 39-37 decision over Swede Alexiusson despite sustaining a bloody nose in the bout.
READ MORE: Defeat ends GB boxer Chantelle Cameron's Rio hopes
Taylor handed first defeat in 63 bouts last month
Azerbaijan's Yana Alekseevna handed Taylor her first defeat in five years at last month's European Olympic qualifiers to leave the five-time world champion still seeking Rio qualification.
Alekseevna's victory in Samsun was Taylor's first defeat in 63 contests.
After her defeat in Turkey, Taylor insisted that she would regroup for the defence of her world title.
In addition to her Olympic success and five consecutive world titles, Wicklow woman Taylor has also won six European titles, five European Union gold medals plus a European Games triumph last summer.