Mike Tyson: Pro boxers at Rio Olympics is ridiculous
Last updated on .From the section Boxing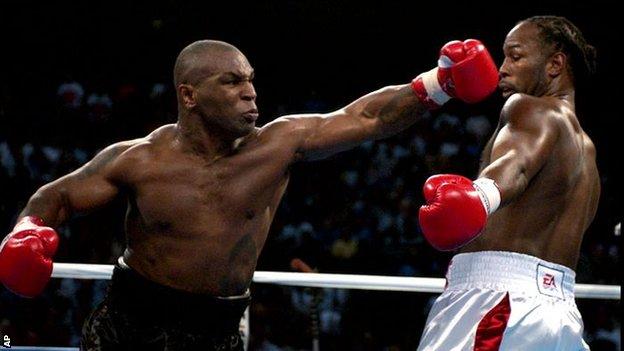 Former world heavyweight champion Mike Tyson says the idea of professional boxers at the Olympics is "ridiculous" - because they would lose to amateurs.
The Amateur International Boxing Association has said pro boxers will compete in Rio if a constitutional change is agreed next month.
But Tyson, 49, a former Junior Olympic winner, said: "Some pro fighters are going to get beat by the amateurs.
"It's just going to happen, I really believe that."
Tyson won gold at the 1981 and 1982 Junior Olympics and, speaking at the 33rd IBF convention in China, said professional boxers would find the fast-paced fighting style of their amateur counterparts difficult to contend with.
"If they are like the amateur fighters that I was fighting in the 80s... they are going to beat some of the champions, it's just going to happen," he insisted.
Lennox Lewis, another former world heavyweight champion and Olympic gold medallist, is also not in favour of the idea, branding it "preposterous".
Tyson has also revealed he is an admirer of Briton and controversial current world champion Tyson Fury.
Fury ended Wladimir Klitschko's nine-year reign as champion in November but has become better know since for a string of outspoken remarks.
"One guy, Tyson Fury, I like to watch him because he has my name and stuff," Tyson said. "Everybody says 'ah, he's a bum', but I like him.
"He beat Klitschko, so what are you going to say? That this guy is still a bum, but he beat the greatest fighter in the last 15 years?"