BBC Sport - David Haye hails triumphant pair Carl Frampton and Shane McGuigan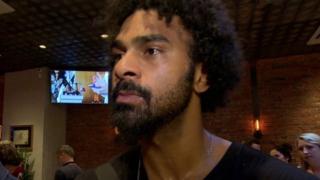 Haye hails Frampton and trainer McGuigan
Former world champion David Haye believes Carl Frampton had "a very clear victory" over Leo Santza Cruz to win the WBA featherweight belt on Saturday.
Haye and Frampton are both trained by Shane McGuigan and Haye was in New York to support the winning corner.
"He [Frampton] is a master boxer, he can do anything in the ring and is really fulfilling his potential. Shane [McGuigan] and the whole team did a fantastic job," Haye said.
Haye described McGuigan as "the best trainer on the planet".