Leigh Wood: Fit-again Nottingham boxer eyes title fight
By Charlie Slater
BBC Radio Nottingham Sport
Last updated on .From the section Boxing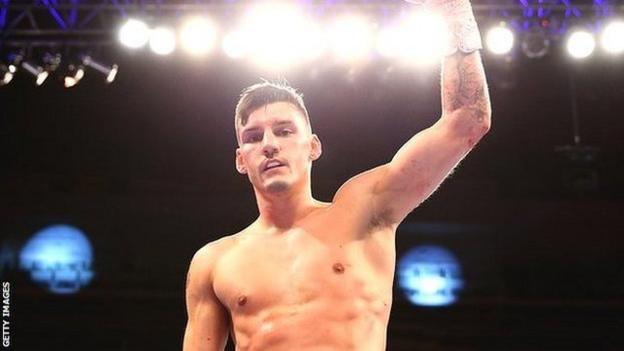 Featherweight fighter Leigh Wood is nearing a return to full fitness and hopes to challenge for a title by the end of 2016.
The 28-year-old Nottingham boxer is one of the top four British boxers in his division but has been hampered by a shoulder injury for 10 weeks.
The Midlands champion told BBC Radio Nottingham: "I feel great. I don't feel like a warm-up fight.
"I am not ruling out December being in the mix for a big fight and a title."
Wood won the vacant Midlands Area title in March 2016, but he has not fought since.
"It's been a very frustrating time battling the injury," said Wood. "I have kept really fit and have kept running.
"You will have ups and downs but you have to ride it out. My next fight or the fight after could be a big fight depending on how my injury pans out.
"I can get back in there for a big fight, which I have worked hard for in my last few fights."