BBC Sport - Terry Flanagan: WBO lightweight champion admires Orlando Cruz's courage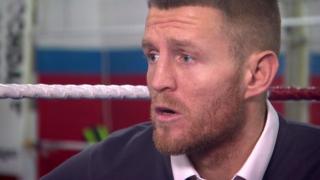 Flanagan admires Cruz's courage
WBO lightweight champion Terry Flanagan says he admires the courage of Orlando Cruz, who he faces in a title bout in Cardiff on Saturday.
Should Puerto Rico's Cruz beat Mancunian Flanagan, he would become the first openly gay boxing world champion.
"I've not got a problem with him being an openly gay fighter, my sister's openly gay and I'm more proud of her than I am of anyone," Flanagan told BBC North West Tonight.
"I'm not interested in his personal life. I'm more interested in his boxing."
Top videos