Nick Blackwell: Hasan Karkardi & Liam Wilkins suspended for sparring incident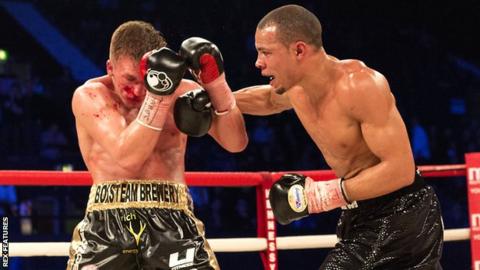 Boxer Hasan Karkardi and trainer Liam Wilkins have been suspended for their roles in the sparring incident that put Nick Blackwell back in hospital.
Blackwell, 26, needed surgery to reduce swelling on his brain after the session on 22 November, despite no longer having a licence to fight.
Karkardi, 29, sparred with Blackwell and Wilkins oversaw the session at the boxing club in Devizes, Wiltshire.
Blackwell was taken to hospital in March after losing to Chris Eubank Jr.
He spent a week in an induced coma after suffering a bleed on the skull during the British middleweight title contest. Blackwell announced his retirement soon after recovering.
The Trowbridge fighter collected his British Boxing Board of Control trainer's licence in October, after encouragement from his former trainer Gary Lockett.
He was due to be in the corner of Liam Williams for the Welsh light-middleweight's victory over Gabor Gorbics in Cardiff last month.