Hughie Fury 'will not repeat cousin Tyson's mistakes'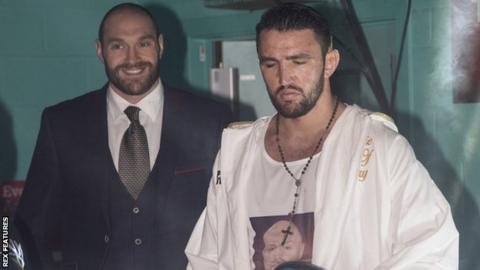 Hughie Fury will not make the same mistakes as his cousin, former world heavyweight champion Tyson, says his dad and trainer Peter.
Fury will face New Zealand's Joseph Parker for the WBO heavyweight title in April, with a venue yet to be decided.
Parker beat Mexican Andy Ruiz Jr in December to claim the belt that was vacated by Tyson Fury in October.
"Hughie is an exceptional character. He doesn't drink, he doesn't smoke, he doesn't do anything," Peter Fury said.
Speaking to BBC Radio 5 live, he added: "I don't see where he can fall out of bed or go wrong.
"He is a nice young man in and out of the ring. He doesn't put on any image or front. He is a just a consummate professional - totally dedicated."
Tyson Fury said last year he had taken cocaine to help him deal with depression, and then gave up his WBO and WBA world heavyweight titles before having his licence to fight temporarily revoked.
"I am highly confident Hughie will toe the line," added Peter Fury. "He will be sensible - but, then again, I didn't think Tyson would ever do the things he has done.
"I'm not saying he's a quiet lad, but he is just normal. He is very pleasant, he's got no pressures. He's not married. He is totally dedicated to his sport."
However, Peter, who trained Tyson, hopes his nephew will return to the ring - with or without him in his corner.
"There has been a lot mistakes made after winning the world title. He has made a lot of bad judgements," he said.
"Whatever he does in the future, I am very proud of him for what he achieved in the sport."