Head cold forces Jamie Conlan to postpone 18 February fight until 10 March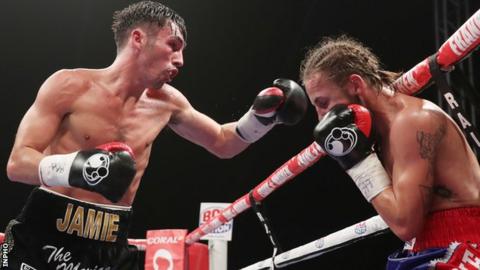 A head cold has forced Jamie Conlan to postpone his upcoming fight against Yader Cardoza at the Waterfront Hall.
The bout for the vacant WBC International Silver Super-flyweight title was set for Conlan's home town of Belfast on 18 February, but will now be on 10 March at the same venue.
Nicaraguan Cardoza, 27, has won 22 of his 33 fights.
"It's frustrating as I've been working hard and preparing for this fight for the past two months," said Conlan.
"But this is boxing and these things happen unfortunately."
The undefeated 30-year-old added: "I contracted a head cold on my return to Belfast and as a result I've missed some vital training sessions.
"Yader is a former world title challenger and I can't take any chances. I want to put in a real performance for all of my fans."
"This is dangerous sport and I can't afford to come in at anything less than 100%. It is just one of those things but I'll be fully fit and prepared to put on a show on 10 March."