Carl Frampton: Leo Santa Cruz set to reject Belfast fight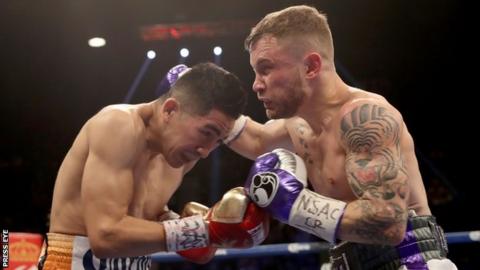 Carl Frampton's hopes of Belfast hosting a third fight against Leo Santa Cruz have been dealt a blow after comments from the world champion.
Santa Cruz regained the featherweight title last month after winning the rematch with Frampton, who wants a trilogy fight in his home city.
Jose Santa Cruz, the father and trainer of the Mexican, has advised his son not to take on Frampton in Belfast.
"If he says no, I wouldn't go there. I do what he tells me," said Santa Cruz.
Frampton won the first fight in New York before losing for the first time in his professional career in the Las Vegas rematch.
"I'm hoping that Leo sticks to his word and comes to Belfast like he said. He can make it happen," said Frampton following the points defeat.
However, that now looks unlikely after Santa Cruz spoke to Villainfy Media.
He added: "My dad is scared that if I go over there, and even if I beat Carl Frampton, the people and the judges are going to be an influence.
"He thinks that even if I beat him I'll have the victory taken away from me.
"My dad says not to go over there, because it would be a really bad decision and, you know, he is right and everything. But if I go over there and I get the win and beat him, for all the fans to see that I win, that's all that matters. Hopefully they see that I win and they give me that.
"It's very important, he's my father, he's been there my whole life, my whole career. I always listen to my dad."