Paddy Barnes may box for European title with Michael Conlan also planning next bout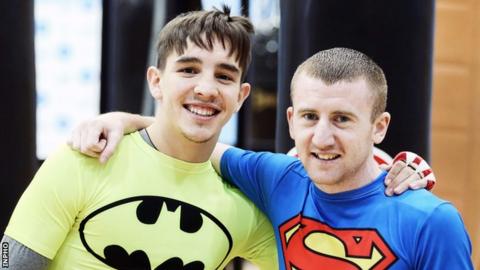 Paddy Barnes is hoping to fight for a European title belt before the end of the summer while Michael Conlan is set to box in the US again soon.
Twice Olympic bronze medallist Barnes, 29, has won his opening two professional contests since joining the paid ranks after the Rio Olympics.
"We're looking at a European title fight. Definitely in Belfast," Barnes told BBC Sport Northern Ireland.
Conlan, meanwhile, is likely to fight in Chicago or Boston next.
London Olympics bronze medallist Conlan made a winning professional debut in New York's Madison Square Garden on St Patrick's Day when he produced a third-round stoppage of American Tim Ibarra as he topped the bill.
Conlan's father John, Ulster Amateur Boxing's high performance coach, says the Belfast fighter may again headline the card in his next contest.
"At the moment, [his promoters] Top Rank are looking at maybe Chicago or Boston after what happened in Madison Square Garden," added the boxer's father.
"They are talking about him headlining a show again.
"There is also talk of Michael being on the Manny Pacquiao card in Australia in July."
Top Rank boss Bob Arum said a couple of weeks ago that Pacquiao was in line to fight against Australian prospect Jeff Horn in Brisbane.