Tyson Fury: Former heavyweight champion targets July return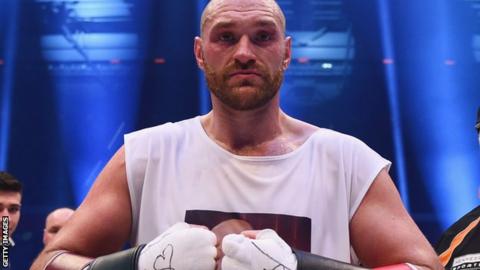 Former heavyweight champion Tyson Fury is targeting a July return to boxing.
The 28-year-old said in a post on social media he was aiming to return on the Billy Joe Saunders-Avtandil Khurtsidze undercard.
Fury, who has not fought since he beat Wladmir Klitschko in November 2015, had his licence revoked in October as he dealt with mental health problems.
He initially wanted to return in May but the British Boxing Board of Control told the BBC he was still suspended.
Fury posted that he was travelling to Marbella to train for the Saunders-Khurtsdize bout, which is scheduled for 8 July.
He vacated his WBO and WBA world heavyweight titles a day before his licence was suspended, saying he was unable to defend them because of his health.
The BBBofC said at the time that Fury's licence was suspended "pending further investigation into anti-doping and medical issues".
He would have to appear before the board to be given permission to fight.
Fury timeline
29 November 2015: Beats Ukrainian Wladimir Klitschko to become the WBA, IBF and WBO champion
8 December 2015: Stripped of his IBF title for failing to fight the mandatory challenger
24 June 2016: Postpones July's rematch with Klitschko after injuring an ankle in training
4 August 2016: UK's anti-doping body confirms it charged Fury with a doping offence on 24 June
23 September 2016: Postpones rematch for a second time because he is "medically unfit"
3 October: Appears to retire from boxing, tweeting: "I'm the greatest, and I'm also retired." Three hours later he reverses the decision, tweeting he is "here to stay"
5 October 2016: Reveals he has been taking cocaine to help him deal with depression
10 October 2016: Given extended deadline to convince the WBO not to strip him of his world heavyweight title
12 October: BBBofC meeting starts looking at Fury's boxing licence
12 October: Vacates WBA and WBO titles
13 October: Licence to box suspended by BBBofC
6 March 2017: Suggests he could make a comeback on 13 May
25 April: Says he wants to fight on Billy Joe Saunders-Avtandil Khurtsize undercard