Savannah Marshall: Floyd Mayweather to promote British two-time Olympian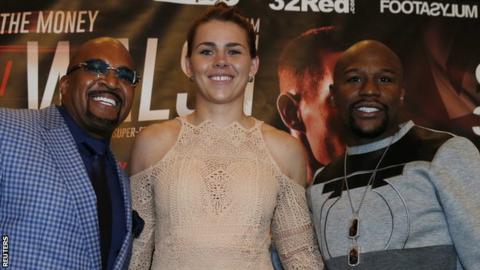 British two-time Olympian Savannah Marshall has turned professional and will be promoted by Floyd Mayweather.
Marshall became the first British woman to win World Championship gold when she took the 75kg title in 2012.
She appeared at London 2012 and Rio 2016, and becomes one of three female boxers at Mayweather Promotions.
The 25-year-old, who also won gold at the 2014 Commonwealth Games, is the only woman to beat two-time Olympic champion Claressa Shields.
American Shields, 22, has two wins from two fights since turning pro.
Writing 13 days before Marshall officially joined the paid ranks, she tweeted: "Yes, yes, yes. Savannah Marshall has turned pro! The amateur brackets can't save her."
Mayweather, 40, won world titles in five weight divisions before retiring in 2015.
Earlier on Thursday, UFC lightweight world champion Conor McGregor said he has signed a deal to fight Mayweather.
However, Mayweather refused to discuss the matter when asked about it.