Floyd Mayweather in expletive-laden row with Liam Walsh's brothers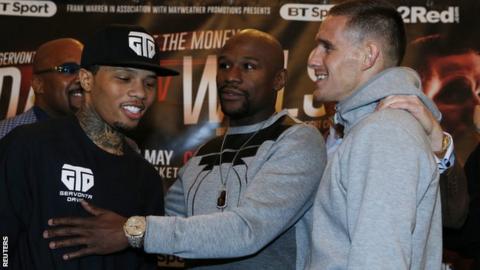 Floyd Mayweather threatened to "slap" the brothers of world title hopeful Liam Walsh in an expletive-laden row.
The American argued with the pair at a news conference for Walsh's fight with IBF super-featherweight champion Gervonta Davis at London's Copper Box Arena on Saturday.
Ryan and Michael Walsh taunted Davis' promoter Mayweather for never fighting outside the US in his career.
The former five-weight world champion responded, leading to angry exchanges.
Mayweather questioned Walsh's promoter Frank Warren for signing the brothers to his stable of fighters, ordered them to leave the news conference and called them a string of derogatory names.
"You better get those two little leprechauns out of here before they get slapped," added 40-year-old Mayweather, who retired in 2015.
He then climbed on a platform to continue to shout at the pair as they left the room while the brothers shouted abuse back.
Liam Walsh appeared composed throughout the incident, despite Mayweather calling him "a super-cold bum".
Mayweather earned the nickname 'Money' in his career for generating - and flaunting - a fortune.
Davis, 22, has admitted pursuing a glamorous lifestyle in the past and Norfolk's Walsh, 31, said of his opponent: "We're complete polar opposites. Some people are that poor that all they have is money. I'm not that poor.
"My family, my happiness, my health is paramount in my life and that's all that matters to me."
But Mayweather teased Walsh: "One thing I learned, when it's time to cut the lights off when the bills are due, you can't go tell the bill man 'I love you' and they'll keep the lights on, so remember that."