David Haye splits with trainer Shane McGuigan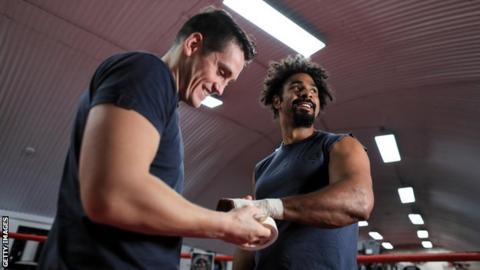 David Haye has spilt from trainer Shane McGuigan just under three months after his heavyweight defeat by Tony Bellew.
Haye suffered an Achilles injury in the sixth round of the fight and was knocked down in the 11th.
"Shane and I have come to the mutual decision that, when I am ready for full training camp, we will no longer be working with each other," Haye said.
The 36-year-old added they "remain good friends" but "agreed moving forward we weren't right for each other".
Former WBA heavyweight champion Haye had surgery on his Achilles tendon following the defeat by fellow Briton Bellew.
In a post on Facebook, he also said: "I am pleased to confirm rehabilitation is going well and I will make a complete recovery.
"Whilst I am not quite in a position to be announcing my next opponent, my passion for the sport remains unwavered and desire to regain my heavyweight title is stronger than ever."