Leigh Wood: Nottingham fighter returns to ring after injury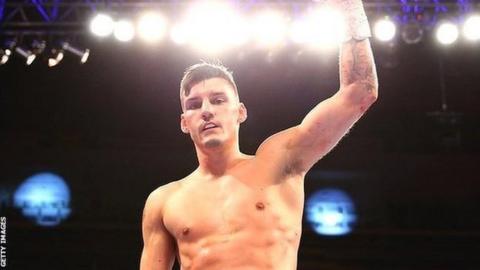 Nottingham's Leigh Wood is confident he can challenge for a British or Commonwealth title by the end of the year despite a 15-month injury lay-off.
The featherweight will fight Lithuanian Simas Volosinas in Bingham on Saturday and is eager to make up for lost time.
"It's good to get back in the ring and get through the drill of it all again," Wood, 28, told BBC Nottingham Sport.
"When I box it's explosive, it's powerful and it's exciting and that's why people turn up to watch me fight."
Wood won the vacant Midlands Area title in March 2016, but has not fought since.
"My fans have missed out so it's good to get a local show because my fans have been up and down the country for me," he added.
"I want to push on straight away and probably, in September and October, be back in the mix for titles. I don't want any more eliminators.
"I have proved what level I am capable of boxing so I need to go out and do it."