Gallagher targets MMA world title after Madison Square Garden victory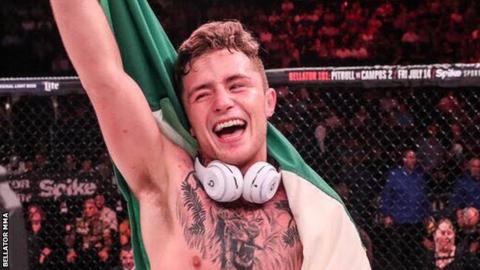 MMA fighter James Gallagher says a world title shot is in his sights after a first-round victory at the iconic Madison Square Garden in New York.
The 20-year-old featherweight, from Strabane in Northern Ireland, beat Chinzo Machida via a rear naked choke in just over two minutes.
"The reaction has been massive, the world champion tweeted me and offered to fight me in Croke Park," he said.
"That just shows you the statements I'm making."
Gallagher fights under the Bellator brand, which is a similar franchise to the Ultimate Fighting Championship.
The impressive victory has thrown 'The Strabanimal' firmly into the spotlight, and he says he will now grab the opportunity.
Winner at an early age
He added: "I've done everything quickly in MMA. I won my first fight in St Pats Hall in Strabane at the age of 13, I beat a 21-year-old in a fight in Warrenpoint when I was also 13.
"I moved to Dublin at an early age, I won my first professional MMA fight at 18, I just won in the most famous arena in the world at 20, and I will have that world title by the time I'm 22."
Given his success, his cocky persona and the fact he fights out of the same gym as Conor McGregor, the young County Tyrone man has been compared to the Dubliner.
"Conor is a four-time world champion, he won two titles in cage warriors, and he won two titles in UFC, and later in the summer he will fight Floyd Mayweather," he added.
"Conor is the greatest MMA fighter of all time, so I will take being compared to him any day."
Gallagher's next fight is expected to be in November, and he says he thinks he is only a couple of fights away from that title shot.
"I'm going to move down from 145llbs to 135llbs, and then I will have a fight at the start of next year, and then I expect to have that title shot."