World Amateur Championships: Irvine defeat leaves Ward as last Irish hopeful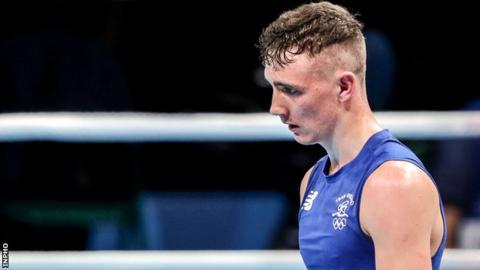 Belfast flyweight Brendan Irvine has bowed out of the World Amateur Championships in Hamburg.
European bronze medallist Irvine was beaten by Kim In Kyu of Korea on a unanimous decision in the last 16.
Irvine's loss leaves light-heavyweight Joe Ward as Ireland's only quarter-finalist after he defeated Georgia's Iago Kizira on a unanimous decision.
Earlier, Irish super-heavyweight Dean Gardiner lost a 3-2 split decision against Colombia's Cristian Salcedo.
Gardiner produced a brave display but the number four seed was given the tightest of verdicts.
Seeded Irvine, having his first fight in Hamburg after receiving a first-round bye, ran into a very impressive opponent in Korean Kim, who won silver at the recent Asian Championships.
Kim looked already to be ahead in the contest when he floored the Belfast man with less than a minute remaining in the bout.
On Sunday, Sean McComb bowed out in the last 16 of the welterweight division against Cuba's number two seed Andy Cruz.
Lisburn man Kyle Walker exited from the bantamweight division on Friday when he lost a majority decision to the Dominican Republic's fifth seed Leonel De Los Santos.
Those defeats mean that Ward, silver medallist in Doha two years ago, is Ireland's last contender as he aims to continue a run which has seen his county win a medal at the five world championships.
The last time Ireland didn't win a world championship medal came in Chicago 10 years ago.