Gennady Golovkin v Saul Alvarez: Big hype, money and reputations in Las Vegas
Last updated on .From the section Boxing84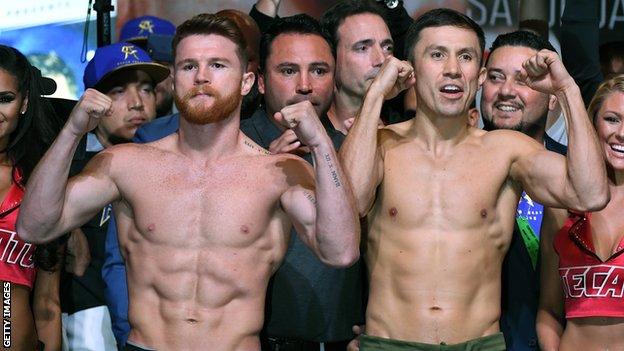 Some experts have labelled it the 'fight of the decade'.
Some ringside tickets for Saturday's bout have sold for £18,000 each, two middleweight world titles will be on the line and in a throwback to some of the greatest fight nights Las Vegas has seen, two of the very best in their weight division go head to head.
If that is not enough, the bout falls on Mexican Independence Day, so the patriotic following Alvarez already attracts is expected to be heavily bolstered in Sin City. Here our pundits and some of the sport's biggest names have their say.
Cinnamon's 'dangerous' pay day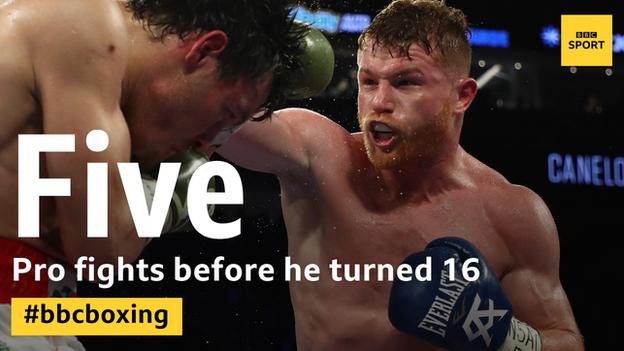 Alvarez has dubbed this his "most dangerous" fight. That is quite a statement from a 27-year-old who has been a professional for 12 years and has shared the ring with Floyd Mayweather.
'Money' inflicted the only defeat of Alvarez's 51-fight career back in 2013. Even then, 'Canelo' - a nickname which translates as 'cinnamon' in reference to his red hair - was a big box-office draw as his defeat is currently the third-most-bought pay-per-view bout of all time.
The 2.2m buys of that night is unlikely to be beaten but pushing through the million mark will be key for boxing. Recently much-hyped fights involving Andre Ward and Sergey Kovalev, as well as Golovkin's last win against Daniel Jacobs, have not broke through 200,000 buys.
Alvarez will receive the bigger chunk of earnings and is expected to pocket a minimum of $15m (£11.3m) before pay-per-view bonuses are added. That will be the biggest haul of his career and some improvement on the $60 he says he picked up for his first fight, aged 15 in Mexico in 2005.
And he has been more vocal in selling a fight many in the sport have longed for. When head-to-head in the ring together in May, Alvarez responded to a seemingly sincere "good luck" wish from Golovkin by voicing back: "Luck is for the mediocre."
He has stated his rival would "understand" what he is facing when the first punch lands and this week said: "I prepared myself for the knockout. Look, anything can happen in this fight. But that's what I've prepared for - to knock him out."
GGG's power of a light-heavyweight...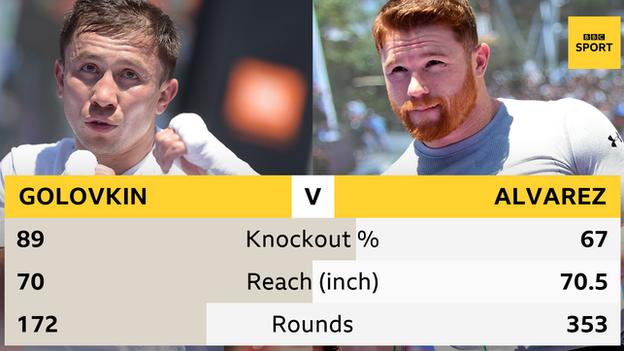 But Golovkin has never been knocked out and has never been beaten. He dishes out the knockouts - 33 in 37 bouts to be precise. That stat points to why Alvarez talks of danger.
BBC Radio 5 live boxing analyst Steve Bunce said: "The people who have been in with Golovkin - Kell Brook, Martin Murray, Matt Macklin - they say you're prepared to be hit hard and then something else happens. Macklin said 'it should be illegal'."
An ESPN study of Golovkin's technique earlier this year discovered the Kazakh fighter generates the type of power boxers two weight divisions - or around 15lbs heavier - produce. He also landed 10 blows a round more on average than others at middleweight and his punches flew at a speed similar to that of a top drag-racing car.
Formidable then, he is consequently a slight favourite with bookmakers. And his power should not mask a stunning amateur career and thorough schooling.
But now 35, some in the sport believe his last performance - a points success over Daniel Jacobs - was a little rusty. It was the first time in almost nine years that 'GGG' needed the judges' scorecards.
Golovkin has stated emphatically that this is his greatest challenge. He missed the birth of his second child recently because of his commitment to his training camp in Big Bear, California.
"I want to win this fight because for me this win will be like a history fight, like so many fights, like Sugar Ray Leonard vs Marvin Hagler and others from that era," he said. "Right now I think new stories, new times for us."
What's on the line?
Oscar de la Hoya, who promotes Alvarez, predicts both men will go through "eight or nine rounds of hell", dubbing his fighter a "knockout artist" and Golovkin a "monster".
The promoter needs this fight to be a success. He was one of the most vocal in the sport when it came to criticising August's meeting of Mayweather and McGregor. It is key that this pure meeting of two of the best fighters on earth delivers.
In the ring, Golovkin has three belts to lose - the WBC, WBA and IBF titles. If Canelo were to win, he can claim all three but given he has a strained relationship with the WBC, he may only accept the other two honours.
The fourth belt in the division is held by Britain's Billy Joe Saunders, who also fights on Saturday night and wants to face the winner of the Las Vegas showdown.
'Canelo knocks him out' - what they said...
Legendary trainer Freddie Roach: "I like 'GGG' in the fight. He might be slipping. He didn't look great last time and Canelo looks to be getting better and better."
IBF and WBA heavyweight champion Anthony Joshua: "Golovkin is a beast but he's up against a real talent. If I have to choose a side I go Canelo. But it will take a very smart fight. Golovkin is straight forward strength. Canelo has to be strength in body and mind because when you have someone pressuring you like Golovkin will, it becomes a mental game - 'how much of this can I take?' It's more than a physical fight for Canelo."
Former five-weight world champion Sugar Ray Leonard: "I give a slight edge to 'GGG' because of the punching power in both hands. But he has to make that work for him, he has to use his jab, get his man to the ropes and then work the body shots and hooks. Canelo has to fight the best fight of his life, like when I fought Hagler, I had to be technically smart and strategically smart."
Former undisputed middleweight champion Bernard Hopkins: "I think there will be knockdowns but not knockouts. This will be hard fought. One guy is a knockout puncher, the other is too but as we know, he has a few more tricks up his sleeve. 'GGG' will have to figure out a puzzle which is different to what he has ever seen before. Canelo will win by a hard-earned decision."
Former five-weight world champion Floyd Mayweather: "Canelo knocks 'GGG' out".
Mayweather's father and trainer, Floyd Snr: "Canelo can do it if he fights the right fight. If he goes to the body, he will stop 'GGG'. I'm not saying he's weak to the body but if you go down there you find stuff you've not seen before."
Seven brothers, seven pros - did you know?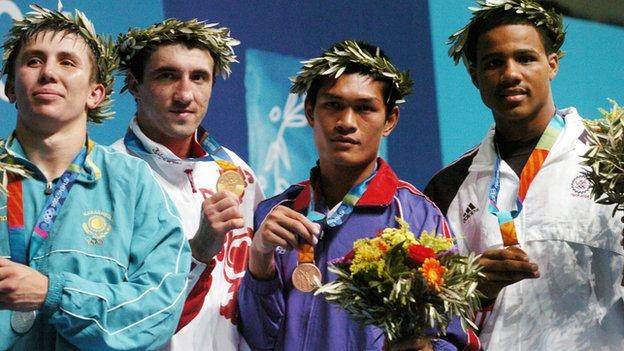 Golovkin has a twin brother who he claims

was a better boxer than him in his late teens

His amateur record is reportedly 345 wins from 350 fights

One of those defeats came against Russia's Gaydarbek Gaydarbekov in the 2004 Olympic final but the winner never turned professional

Alvarez has six brothers and

all of them became professional boxers

The Mexican counts horseback riding as one of his main hobbies

Full records:

Golovkin - 37 fights, 37 wins (33 KO); Alvarez: 51 fights, 49 wins (34 KO), 1 draw, 1 defeat
Analysis
BBC boxing correspondent Mike Costello:
I think this fight will be a huge indicator as to where boxing stands in the US. Gennady Golovkin has been attracting 150,000-170,000 buys for his fights, when you consider the likes of Mayweather's fights routinely did a million views.
In this case, the waiting has added to the occasion. It's a better fight than it would have been this time last year or two years ago.
The last time I have looked forward to a fight this much, a global event, it was Floyd Mayweather v Oscar de la Hoya 10 years ago.
I've been flip-flopping. In the early part of this year, something grew on me about Canelo. I finally got what people saw in him and I fancied his chances.
As it's got closer and closer, I've gone to Golovkin, I like his ability to pick the right punch at the right time. Such a very solid punch picker.