Rio Ferdinand: Ex-Manchester United defender relishing boxing focus
Last updated on .From the section Boxing156
Former Manchester United and England footballer Rio Ferdinand says taking up boxing gives him welcome focus after a period in which he has "been through quite a few things in my life".
His wife Rebecca was 34 when she died from breast cancer in May 2015.
Ferdinand - who has three children - retired from football the same year.
"This is another way to channel that aggression, anger sometimes, and emotions into something I can be really focused on," said the 38-year-old.
'I want to take a shot, give a shot'
Ferdinand, who will be coached by former WBC super-middleweight champion Richie Woodhall, had initially said he was "aiming for a belt".
But, in a news conference following the announcement, he said: "I've got the utmost respect for the boxing fraternity.
"It would be disrespectful for me to come here and say I'm going to win a title because there's guys who have been doing it since they were five or six years old.
"First and foremost this is a challenge. Physically and mentally, can I get through the training and then go and get a professional licence?
"But I want to get past the first parts, get into the ring, take a shot, give a shot and go from there really."
The Londoner insists he is going into this new sporting challenge with his eyes wide open.
He added: "I've spoken to professionals in the game, Richie more than anyone.
"I'm not disrespecting anyone and I know there will be moments when I question if I'm doing the right thing. I want to test myself in another sport."
Ferdinand, who won the Premier League six times and the Champions League once, is attempting to follow former Birmingham City midfielder Curtis Woodhouse and former Crystal Palace forward Leon McKenzie, who became professional boxers after quitting football.
Woodhouse enjoyed some success, becoming British super-lightweight champion.
Former England cricket captain Andrew Flintoff also boxed after retiring, winning his only pro bout, against American Richard Dawson in December 2012.
Ferdinand has posted several social media videos in recent months showing him boxing and working out with personal trainer Mel Deane.
His move into the ring is being backed by betting company Betfair, which previously supported Victoria Pendleton in her transition from Olympic cyclist to Cheltenham jockey.
Woodhall 'wasn't that interested' at first
Ferdinand needs a licence from the British Boxing Board of Control (BBBC) before he begins training and competing.
BBBC general secretary Robert Smith said the organisation had not yet received an application from Ferdinand.
"I was completely surprised," he said. "We don't have an application, so there's nothing to consider. Nor have we had any conversation with anybody regarding this."
Woodhall said his initial reaction was he "wasn't that interested" as he did not know who his new pupil would be, but after learning it was Ferdinand "that changed his mind".
"It's not just a case of Rio wants to turn professional and the BBBC are going to give him a licence," said Woodhall, who believes Ferdinand will fight at cruiserweight.
"He'll go through a 10-12 week training period with myself and Mel. I will be working a lot on technique. We want to get him to level where I am satisfied with him. Then I want to get him to spar.
"I should imagine the BBBC are going to want to see him. We will be arranging that. Then, hopefully, he'll get his licence and then we're away.
"As far as contests go, he'll start off at four rounds and we'll take it step by step - but it's a long, hard journey."
He added: "I do think we can do something with him."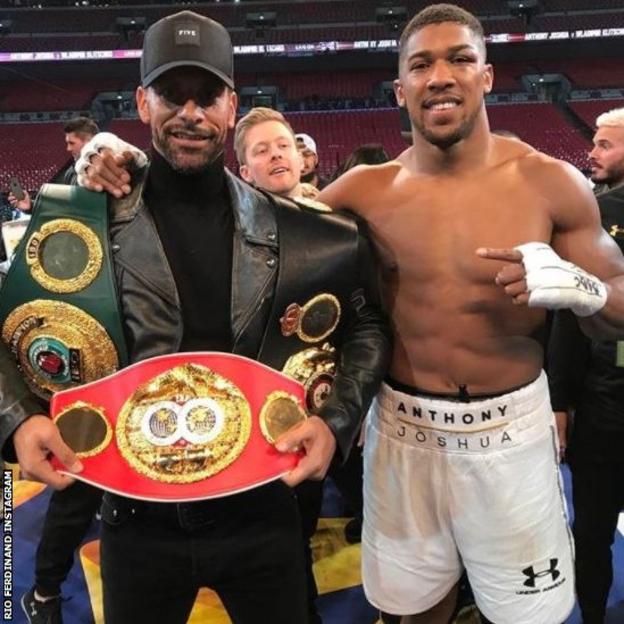 'Be very careful because it's dangerous'
Ferdinand started his football career with West Ham and also played for Leeds and QPR, making more than 500 club appearances. The centre-back was capped 81 times by England.
Woodhouse told BBC Radio 5 live he was "shocked" to hear of Ferdinand's career change.
"When it came up on my Twitter feed that Rio Ferdinand was going to become a professional boxer I thought I'd been hacked," he said. "It's not something you read every day is it?
"I've been retired three years myself and one thing I missed - and he's probably going through himself at the minute - is the competitiveness of being an athlete.
"Once that's taken away from you it's very, very difficult to replace it, so that's probably what he's chasing - to get that competitiveness back in his life."
Promoter Barry Hearn said he thought there was only a 50/50 chance that Ferdinand would receive a boxing licence, and told BBC Radio 5 live: "It's laughable. I like Rio, don't get me wrong, but this is an advert for a reality TV show.
"If Tony Bellew, David Haye or Anthony Joshua hit Rio Ferdinand it would probably be prosecutable by the police for using a deadly weapon. He could get himself badly hurt.
"It's OK if it's just a bit of fun, making a TV show and making some money. I wish him luck, I hope he enjoys it but be very careful because it's dangerous.
"He could get badly hurt and no promoter is going to sanction that."
However, rival promoter Frank Warren says Woodhall's involvement gives Ferdinand's switch of sport "credibility".
"Richie's no mug is he? His track record speaks for itself and I'm sure he wouldn't get involved if he didn't feel that Rio had the ability," Warren told BBC Radio 5 live.
"But the bottom line of it is his age, to take up boxing at the age of 38 is quite a significant jump.
"Having said that, [mixed martial arts fighter] Conor McGregor - who had never had a boxing glove on in his life - went on to fight Floyd Mayweather."