BBC Sport - Archive: The day Derry fighter John Duddy met boxing great Jake LaMotta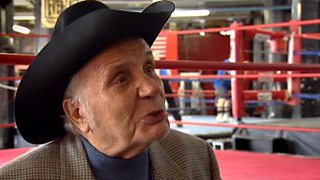 Archive: The day Derry fighter Duddy met Jake LaMotta
BBC Sport Northern Ireland looks back to 10 years ago legendary when boxing great Jake LaMotta paid a visit on Derry fighter John Duddy at the famous Gleason's Gym in New York.
LaMotta, the uncompromising fighter portrayed by Robert De Niro in the Oscar-winning film Raging Bull, died aged 95 earlier this week.
One-time world title hopeful Duddy retired from boxing in 2010 and since then has pursued an acting career.