'Floyd Mayweather's win over McGregor is worthy of passing Marciano's mark'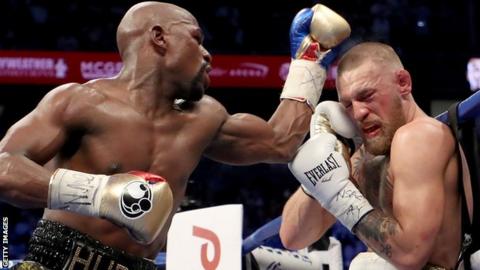 Boxing survived the fight sent to destroy the sport.
Sugar Ray Leonard said he was "impressed and surprised" by Conor McGregor's efforts and Shane Mosley thought the Irishman "did a great job".
Many others, much less qualified, have declared last month's contest in Las Vegas ineligible for inclusion on Floyd Mayweather's professional fight log.
The record for a champion retiring unblemished, according to the gainsay brigade, must remain shared between Mayweather and the 1950s world heavyweight champion Rocky Marciano on 49 fights.
The argument rolls that McGregor's limitations invalidate the status of the contest and therefore Mayweather cannot claim to be 50-0.
Yet an examination of Marciano's career is enlightening.
In his ninth contest, the 'Brockton Blockbuster' faced an opponent described in a later biography as a "sad-faced Puerto Rican".
Marciano had spoken to Gil Cardione before their brief dalliance in Washington DC in September 1948 and learned how Cardione was boxing only to support his family.
"He hasn't got the heart for it," Marciano said at the time. "I'm gonna ruin him."
Cardione survived for 36 seconds. Marciano was paid $200 and fought again just four days later.
Cardione's entire professional career spanned four contests, all ending in defeat and none of which went beyond two rounds.
The boxing statistics website Boxrec notes also how, in 1949, Marciano beat fellow American Pat Richards in two rounds and the New York Daily Mirror newspaper reported that Richards "had no business being in the ring" with the man who would win the world title three years later.
The objective here is not to punch holes in Marciano's credibility but to expose the bias and inconsistency contained in the argument against Mayweather's claim to sole ownership of the record.
If the contention in favour of Marciano is that he met substandard opposition early in his career and not at the end, then Mayweather's supporters can rightly point to their man's ledger being greatly superior overall.
Marciano engaged in seven world title fights, Mayweather in 26.
In a career lasting twice as long, Mayweather faced 16 past or present world champions to Marciano's three. And the criticism that opponents were cherry-picked while sliding downhill applies to both.
The "Money" man might have had a helping hand on the way to history but so did his predecessor.
52 wins... but for the judges
Any argument about the primacy of Mayweather or Marciano would have been rendered irrelevant had the Mexican Ricardo Lopez not been held to a draw close to the end of his career.
In March 1998, Lopez was badly cut during his minimum-weight unification showdown against Nicaragua's Rosendo Alvarez in Mexico City.
Under the rules, a decision was reached according to the scorecards as they stood after seven completed rounds. The three judges scored it in different ways - one for Lopez, one for Alvarez and the third called it a draw.
Even at that stage of the contest, just beyond halfway, there was an eight-round spread of opinion - with Lopez in front by three on one card and behind by five on another.
He retired in 2001 as a two-weight world champion, with the draw being the only blot on his 52-fight record.
You Be The Boxing Judge
The official who scored for Lopez that night in 1998 was Tom Kaczmarek, a veteran of hundreds of fights and author of 'You Be The Boxing Judge', his guide to what seems to be an indefinable process.
A strand of Kaczmarek's philosophy came to mind after Hughie Fury lost to Joseph Parker in Manchester last weekend: "A good counter-puncher," Kaczmarek writes, "scoring effective punches while moving backwards or using lateral movement, still scores points against a fighter who may be moving forward but is not punching effectively."
The term "effective" is crucial. Commentating at ringside, I made Fury the winner by seven rounds to five but was in the minority in holding that view.
Alongside me on the mic, Steve Bunce scored it a draw - as did Rocky Young, the judge sat directly in front of us.
Different opinions are formed from separate sides of the ring and the judges sat to our left and right each scored it for Parker by 10 rounds to two.
The verdict underlined the difficulty in winning close fights on the back foot and endorsed the shrewdness shown by Hughie's cousin Tyson in beating Wladimir Klitschko in Dusseldorf almost two years ago. Tyson first frustrated and then outscored the long-time champion.
Hughie did the first but not the latter.
'Display of the year'
Anyone who has lost a parent can only marvel at the efforts of Luke Campbell in failing narrowly against Jorge Linares in Los Angeles last weekend.
Campbell's performance stands, for me, as the best by a British boxer anywhere in the world this year.
With the WBA lightweight title at stake, the 2012 Olympic champion was quoted by bookmakers beforehand at odds similar to those stacked against McGregor in the showdown with Mayweather.
In the second round, the price lengthened as Campbell was floored but he rallied to match and at times outbox the Venezuelan.
At the final bell, my card showed the pair level at six rounds apiece, with Linares edging the 12-round contest by virtue of the knockdown.
Afterwards, Campbell revealed that his father had passed away two weeks earlier.
Campbell said he cried every day but used the bereavement not as a reason to withdraw but as a source of inspiration.
It takes a special character to react in such a way and we should not be surprised by his mental rigidity because Campbell has been dealing with the emotions for some time.
When his father was admitted to a hospice in early 2015, Campbell withdrew from a planned fight in March but later changed his mind and won in three rounds.
He remains the most accomplished, yet unheralded, British gold medallist from London 2012, when he joined Anthony Joshua and Nicola Adams on top of the podium.
Kell Brook and James DeGale have won professional world titles in the United States in recent years and Campbell's display last weekend was at least the equal of theirs, without the same reward.
He was unlucky rather than robbed against Linares, but showed he belongs at the top level - in terms of talent and, especially, temperament.