Lee Selby: IBF champion to fight in December before Josh Warrington bout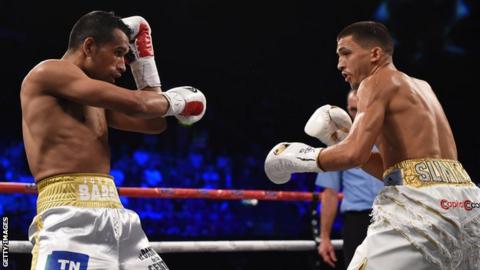 Welsh boxer Lee Selby says he is ready to give challenger Josh Warrington "an educated boxing lesson" when the two fighters meet in 2018.
Warrington set up a shot against IBF featherweight world champion Selby with victory over Dennis Ceylan.
Selby will take a mandatory defence on 9 December at London's Copper Box Arena against an as yet unnamed opponent before facing Warrington.
"I will definitely be fighting him. He is just another mark," Selby said.
"But I think he's got emotionally attached to me. I will give him an educated boxing lesson... and then move on."
Selby has successfully defended his title twice this year, winning in July against Jonathan Victor Barros just four days after the death of his mother.
The Barry fighter will fight again in December on a card that also includes IBF super-middleweight champion James DeGale.
Selby and Warrington have been embroiled in a long-running battle of words, with Selby accusing the Leeds boxer of 'bottling' an opportunity to face him.
He added: "The Warrington fight will be a big fight, he's created some sort of rivalry, he doesn't like me very much, but I'll come through the fight with ease.
"All he keeps going on about is Lee Selby this, Lee Selby that, even his dad, who is his trainer, was mentioning me during his last fight.
"But to me, he's just another challenger."
Warrington told BBC Radio Leeds: "He's become a bit of a talker now. He's a world champion and he doesn't get in fights, so what does that tell you?
"I've made myself mandatory so he has to fight me. He's got nowhere to run."
Elland Road bound?
Selby could possibly face Warrington at Leeds United's Elland Road home in early 2018.
"We will definitely be fighting in the early part of next year, if I am right then I think we need to fight by the end of March," Selby told BBC Wales Sport.
"I will be fighting in December, a fight will be announced shortly and that will make it three fights this year, which is perfect for me, that's the right amount.
"The next fight is a voluntary defence, so my management will pick someone suitable and I will be ready.
"The next two fights will be in the UK, where I fight Warrington will depend on the purse bids. He wants it in Leeds and it probably sells best there."
Leeds fan Warrington has said it would be "the stuff dreams are made of" to fight at Elland Road.
However, he thinks any potential fight there would have to take place after the football season had ended.
"The groundsmen at Elland Road don't want you putting a ring in there and a load of fans ruining the pitch during the season," he said.
"If we don't get that then we could fight as early as March at the Leeds Arena, but if I had to wait two more months to fight at the ground then I definitely would. It would be a dream come true."