Calzaghe v Kessler: A decade on from Calzaghe's 'crowning moment'
By Michael Pearlman
BBC Wales Sport
Last updated on .From the section Boxing
Ten years may have passed, but Joe Calzaghe has no difficulty placing his fight with Mikkel Kessler in sharp context.
"It was my crowning moment. After all the years of struggle, of injury, to win the four belts and the Ring Magazine title, it was great," he says.
It was 3 November 2007 when more than 50,000 fans roared Calzaghe on at Cardiff's Millennium Stadium in a unification fight with undefeated Dane Kessler - a night and a fight that finally secured Calzaghe's place among the greats of British boxing.
It was fight number 44 in what would be an unbeaten 46-fight career.
But even then the Welshman was the British fight game's best-kept secret, whose abilities split opinion. He was even derided by some, accused of ducking the difficult fights and the sport's biggest names.
That changed on a euphoric night when he unified the super middleweight division with the performance of a lifetime against his toughest opponent.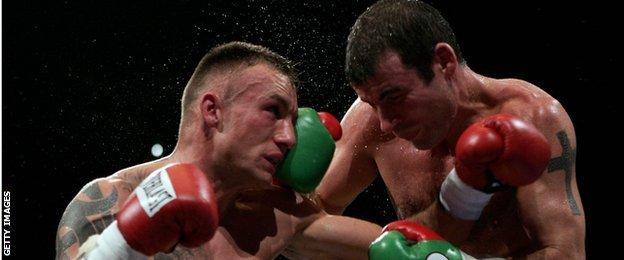 A fight he was 'desperate' for
After nearly a decade as a world champion, Calzaghe had reached a career crossroads, desperately craving the occasions and the pay days that would define his legacy and secure his future.
He was undefeated but considered unproven, a fighter whose enormous talent but lack of drawing power made him a dangerous risk, rather than enticing prospect, for the biggest names in the sport.
Things had started to change after the utter destruction of American Jeff Lacy, with Calzaghe now considered enough of a name in the US to fight reality TV star Peter Manfredo at the Millennium Stadium.
That was an easy fight for Calzaghe, a good pay day and decent exposure, but it merely whetted his appetite for a defining night against Kessler.
Calzaghe owned two super middleweight titles, the Dane the others. The duo had an unblemished collective record of 82-0 and for Joe, there was simply no other option.
"It is a fight I always wanted, I was frustrated in my career, in the politics of boxing, with the injuries I was getting," he told BBC Sport.
"I had fought five former world champions, but after they had lost their titles - that was the trend of my career.
"Jeff Lacy only took the fight because his manager Gary Shaw came over to watch me and thought I was shot; they thought it would be an easy fight, that I was easy pickings.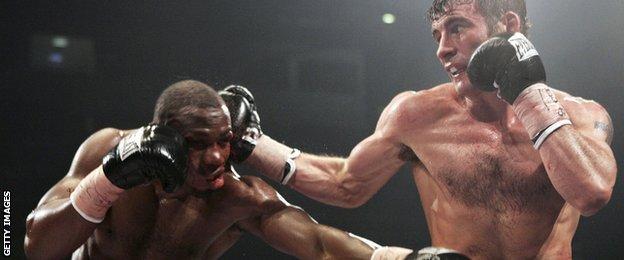 "I knew it was time to shine. Kessler and I were head and shoulders above anything else in the division, we were 82-0 heading into the fight.
"You can't fight forever. I had started to think about retiring undefeated, but I wanted the Kessler fight badly.
"When my promoter Frank Warren said it was going to be a hard fight to make, I called his bluff and said I'd go to Denmark.
"I said I didn't want any other fight and thankfully Frank made it for Cardiff in that amazing stadium."
Calzaghe had been eyeing the Dane for many years, ever since he spotted him on the undercard of a routine title defence against Will McIntyre in 2001 in Copenhagen.
"I took notice of him and thought 'he can box'. So for years I knew we would fight, Mikkel seemed to have the full package and I had sort of studied him, especially when he picked up the titles," he said.
"I could tell Kessler was convinced he would win the fight - why wouldn't he have been? He was the young champion, I was the old man."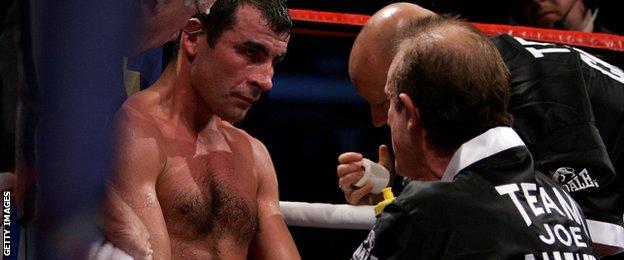 'A long way from Splott Leisure Centre'
Having finally secured his dream fight, the next and tougher obstacle for Calzaghe and his trainer Enzo - also his father - was masterminding a way to win it.
Dealing with the size of the crowd and the weight of expectation was only one factor in this. Calzaghe also had to battle the clock - with the fight staged in the early hours to satisfy US TV - and the booming rights and lefts from Kessler.
"It's massive, there was more of a football atmosphere, more of a football crowd and the roof keeps the noise, it really takes it in," he recalled.
"During the fourth round I knew I must be doing badly, because all I could hear was 'Denmark, Denmark' from the crowd!
"My crowd had gone quiet! But when things were going better, you could feel that roar; the crowd were incredible, you can feel it going through your body.
"I was fighting the wrong fight at the start, the atmosphere meant I was trying to do too much.
"He caught me and he buzzed me up a bit in the fourth and fifth rounds, then I got a few slaps in the corner from my dad that I could have done without!
"I caught Kessler with a body shot in the eighth round and hurt him and from then I started to use my boxing skills.
"I knew the fight was close, he hit hard, his punches were having an effect. Before that fight I'd been able to count the amount of rounds I thought I had lost in my entire career on my hands.
"When I started using the fundamental strengths of a southpaw. He's said to me since he couldn't handle my speed or power.
"I was cool, calm and collected, because I believed winning was my destiny, everything was geared to this fight.
"In the 12th round I knew he needed a knockout and I just tried to be professional and was saying to myself 'just box Joe'.
"He caught me with some shots in the last round, he was coming on strong, he was still there.
"You can't be messing around, even though I'd dominated rounds 8, 9, 10 and 11.
"People look at these big fights, but I used to box in leisure centres. When I boxed Evans Ashira, I couldn't fill Cardiff Ice Rink. I broke my hand, I was getting booed by my own fans.
"That's why I had so much appreciation for fighting in the stadium. It's a long way from Splott Leisure Centre."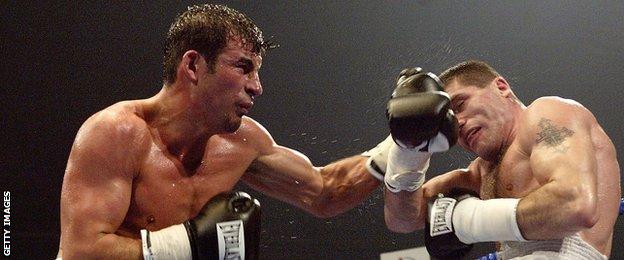 'Something in me died' after Kessler
The unification fight with Kessler would be the last time Calzaghe punished his body and attempted to squeeze off enough weight to compete as a super middleweight.
Instead he opted to step up to light heavy, where fights with American greats Bernard Hopkins and Roy Jones in Las Vegas and Madison Square Garden further confirmed his legacy.
A BBC Sports Personality of the Year award was another unexpected bonus, but Calzaghe admits he never again boxed with the same focus or intensity after Kessler.
"After the Kessler fight something in me died, in terms of motivation. I didn't want to be a boxer who gets hurt and retires. I wanted to retire first," he said.
"I am pretty happy with my last three fights, that's a great way to end. After fighting in all those little leisure centres, it really made me appreciate how I ended up.
"You don't get many happy endings in boxing, I didn't want to be another unhappy ending. My boys were begging me to quit, my youngest used to sob his eyes out.
"To finish in the UK in my home stadium, that was amazing."