Tyson Fury says he wants to become a people's champion if he returns to boxing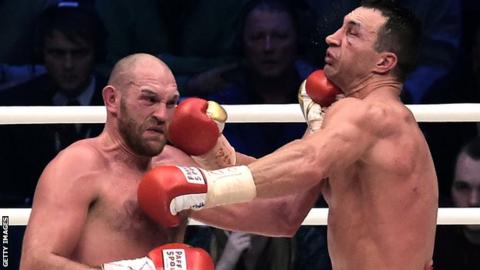 Former world heavyweight champion Tyson Fury says he will refuse to "play a character" if he returns to boxing.
Fury, 29, has signed an advisory deal with management firm MTK Global as he hopes to end two years of inactivity.
He expects to hear from UK Anti-Doping in December regarding a failed test in June 2016 which is blocking his return.
"Of all the things I've been called - a bigot, a sexist, a homophobe - I may have been those but the one thing I'm not is a drugs cheat," said the Briton.
"That's the worst a sportsman can be. I will not be forced to admit anything I have not done," he told IFL TV.
Fury says his adverse doping test - which showed traces of a banned steroid - arrived because he ate uncastrated wild boar.
The British Boxing Board of Control has said the former champion, who claimed the IBF, WBA and WBO titles against Wladimir Klitschko in November 2015, cannot be granted a boxing licence until the issue is dealt with.
Fury, who admitted he used recreational drugs to help battle depression in 2016, has built a reputation for controversial statements and news conferences, including arriving for one media event dressed as Batman in the build-up to his Klistchko win.
"This time I want to be myself, I don't want to play a character anymore," added Fury, who says he has lost three stone and now weighs around 24 stone.
"I want the public to see me, the people's champion, the happy-go-lucky Tyson Fury. Not the confident, brash character to sell tickets. If promoters can't do their job, I'm not going to help them. I'm not going to be a performing actor.
"I feel I have a story to tell, a massive one. The stuff I've been through, depression, mental health problems. It can help and inspire others. From rags to riches to rags again.
"From 18 stone to 27. From a clean living man to drugs and alcohol and back to the heavyweight world champion again. I hope the legacy and story I leave behind will help others in the future of what to do and not to do."
Fury - undefeated in 25 fights - believes a bout against fellow Briton Tony Bellew would represent the "toughest" option on his return and is keen on the option or a world title fight.
'The comeback is nigh' - analysis
BBC Sport boxing correspondent Mike Costello
Fury has signed his contract with MTK, Matthew Macklin's outfit who are having a growing influence on the sport having recently signed Carl Frampton.
For me it's another sign of Fury's intent. We have seen the videos of him in training, working at Ricky Hatton's gym, so it's more and more consistent signs that the comeback is nigh.