Miguel Cotto v Sadam Ali: Billy Joe Saunders praises retiring WBO champion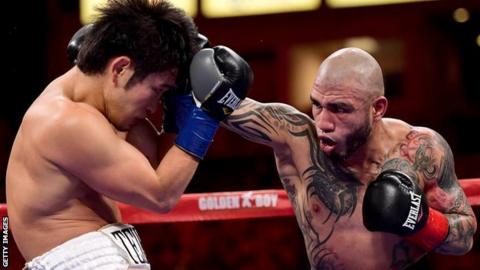 Miguel Cotto should be respected by everyone in boxing as he prepares to fight for the last time on Saturday, according to WBO world middleweight champion Billy Joe Saunders.
Six-time world champion Cotto will end his 16-year career by defending his light-middleweight title against Sadam Ali at Madison Square Garden.
The Puerto Rican, 37, has claimed world titles in four weight categories.
"He's been in with the best and ducked nobody," Saunders told Radio 5 live.
"He's seen so many generations through the sport, he's like an uncle, everyone has to respect him.
"I really rate him and respect him. He is in the top five idols in boxing for me. He carries himself well and to make it in the US in the fashion he did is unbelievable.
"When I won the world title he was the first one I would have loved to have boxed. Not because I would have thought I could beat him but because I had watched him since I was 13.
"He has managed to go on three years past his best and still mixes it with the best. It shows how good he was back in his day.
"Would I like to see him retire for good now? He's secured his family's future. I would like to see him keep a role in boxing but take a back step."
The loaded wraps controversy
Cotto will contest his 47th professional bout against Ali, and his 26th involving a world title.
Only five men have beaten him - Floyd Mayweather, Manny Pacquiao, Saul 'Canelo' Alvarez, Austin Trout and, controversially, Antonio Margarito.
His career-first defeat by Margarito in 2008 - which ended when Cotto was forced to quit in the 11th round - was a huge shock.
Margarito's hand wraps were deemed illegal prior to his next bout against Shane Mosely, prompting a year-long ban and suspicion he broke the rules in inflicting visible damage on Cotto six months earlier.
"Cotto looked so battered around the face," said BBC Sport boxing correspondent Mike Costello.
BBC Radio 5 live boxing analyst Steve Bunce recalled the "breathless" feeling of seeing Cotto quit, and the confusion months later.
He said: "What happens is Mosely's trainer Naazim Richardson goes in to check on the hand wraps and he spots something odd, some discolouration on the knuckles.
"So they get it off and keep it in a sealed bag. Margarito gets in the ring and doesn't look so good. Fast forward a couple of weeks, we examine those bandages, and guess what's in them? A substance like plaster of Paris."
'One of the island nation greats'
Cotto, who linked up with trainer Freddie Roach after his 2012 defeat by Trout, is a heavy favourite to beat Brooklyn-born Ali, fighting in just his second world title bout.
Cotto is comfortable at Madison Square Garden, where he has beaten the likes of Mosely, Paulie Malignaggi and four-time world champion Zab Judah.
"Cotto is one of the greats from the island nation," adds Costello. "He has won titles in four weight divisions and has a reputation as a fighters' fighter.
"One of his best wins for me would be beating Judah. I looked back at the fight, how he moved effortlessly from orthodox to southpaw. Had I been commentating it was so easy I may not have noticed it because he glided to put himself in place and on balance to throw heavy shots."
Bunce adds: "I think he beats Ali. Cotto has changed over the years to give himself the career he has had.
"I think he gets the win and in a place he will be fighting at for the 10th time - the Garden."