David Haye v Tony Bellew: Rematch to take place on 5 May at London's O2 Arena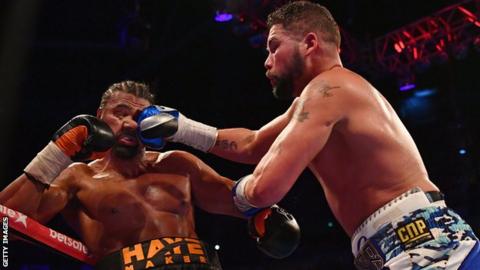 The postponed heavyweight rematch between Britain's David Haye and Tony Bellew will take place on Saturday, 5 May at London's O2 Arena.
The pair were scheduled to meet on 17 December but Haye suffered a "freak" training accident and had to have surgery on a torn bicep.
WBC cruiserweight world champion Bellew, 34, stopped former heavyweight world champion Haye, 37, in March.
Haye injured an Achilles in the sixth round and was stopped in the 11th.
Liverpool's Bellew said: "To be honest I was looking forward to a great victory in December and a relaxing family break over Christmas, but my mind is still very much on this fight and I will punish him for that.
"I now have a very clear plan for 2018 and that is to knock out David Haye and then knock out Tyson Fury and end both their careers."
Londoner Haye added: "While the first chapter of the Haye-Bellew saga didn't go my way, fans were left on the edge of their seats throughout the thrilling 11-round battle.
"The rematch in May will no doubt eclipse this."
Bellew planning a big year in 2018 - Haye then Fury
Bellew told BBC Sport: "Tyson Fury wants to dance and I'm game but first I have to come through probably the biggest single punching heavyweight in the world in David Haye.
"No excuses - if he's pulls out of this next one he's done. My plan is to get rid of Haye and then deal with Fury.
"He's huge but he's not the same as Anthony Joshua or Deontay Wilder - he hasn't got concussive power. I actually believe I punch harder than Tyson Fury.
"He hasn't got the best chin. If Steve Cunningham can put him flat on his back I can put him fast asleep. Styles make fights and I'll happily face Tyson Fury.
"I'm sick of people saying I'm scared of facing a big heavyweight. I'm in a position where I can pick and choose who I fight and when I fight - and that leads me to Tyson Fury."