Concussion in sport: Are safety and equality compatible in women's boxing?

By Mike Costello
BBC boxing correspondent
Last updated on .From the section Boxing26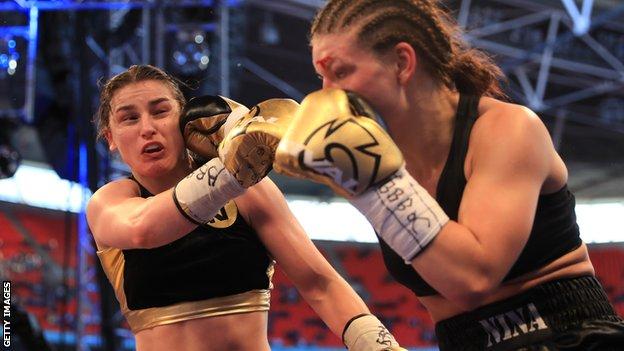 In a week during which Ireland's Katie Taylor defended her world title and Nicola Adams returns to competitive action, it is timely to consider the dangers faced by female boxers and the indications they are more at risk in the ring than their male counterparts.
Research into other sports has shown female participants are more prone to concussion than men, raising questions as to whether safety and equality are compatible in boxing, and splitting opinion among respected figures.
The number and length of rounds form the crux of a debate which will help shape the future, with Taylor and Adams among those who have called for the duration of rounds in women's contests to be increased from two minutes to three, in line with the men's.
A three-year study begun in 2016 by the International Concussion and Head Injury Research Foundation (ICHIRF) is focusing on a group of retired sportsmen and women aged between 50 and 80 - assessing the long-term implications of concussion, and comparing the cohort to people of similar age, gender and background in the general population.
The group consists mainly of jockeys but footballers, rugby players and a few boxers are also being studied.
"Very little research has been done in this area and certainly none in the UK," says Dr Michael Turner, the medical director at the London-based foundation. "What we do know, from other sports, is that women have a higher rate of concussion than men. And this is not really understood.
"The studies are uniform - if you look at women's soccer, the concussion rates are nearly 2:1, so women playing soccer against other women produce a higher rate of concussion, per hour of participation, than men playing against men.
"We did a study where we looked at jockeys - we have lots of female jockeys, particularly in point-to-point racing. The women actually fall off less often than the men but when they hit the ground, they have nearly four times the rate of concussion. It was about 3.6:1 compared to the men and that was very interesting for us but very, very difficult to explain. It's the same right the way around the world."
'Neck strength is not the root cause'
Studies in the United States have pointed to gender differences around the head and neck area as being responsible for the disparity.
In boxing, heavy punches accentuate the rotational twisting force applied to the head, and one research paper - published by Temple University in Philadelphia in 2005 - concluded women had "lower levels of head-neck stiffness in response to external forces".
Dr Turner is not convinced by such a theory.
"This is the idea you've got a sort of huge mushroom on a very small stork and you basically can't control it. I have significant problems with that," he said.
"Many of my male jockeys have big mushroom heads with small storky necks, whereas a large number of my female jockeys have necks like a prop forward and would be very proud to show that they are as strong as anybody else. I think a number of studies are looking at neck strength and trying to correlate it but it's really difficult to bring that to some kind of conclusion.
"Many of my colleagues think that's the way forward. But I suspect that it's something more genetic and that there is some reason to do with the nature of female genes or the hormones that somehow makes the brain slightly more sensitive."
'Women are either boxers, or they are not'
Women's world championship fights are staged over 10 two-minute rounds, as opposed to '12 threes' for men.
The push to increase the duration is contentious, and also a measure of the upsurge in interest in the sport, triggered by the successes of Taylor, Adams and American Claressa Shields at London 2012, when women's boxing was added to the Olympic programme for the first time.
Not long ago, few cared. Now there are political, personal and commercial interests at play.
In his newspaper column earlier this month, former world featherweight champion Barry McGuigan made the case for equality. McGuigan and his Cyclone Promotions are guiding the career of Chantelle Cameron, a fast-improving lightweight from Northampton who might soon pose a genuine threat to Taylor.
"There is no reason why the championship drama should be limited to 10 two-minute rounds," wrote McGuigan.
"It is disrespectful. Women are either boxers or they are not and therefore should be allowed to contest championship bouts over 12 three-minute rounds like the men. Anything less is sexist and fails to recognise the quality, commitment and hard work that women put into the sport."
'It's a fact women have stronger symptoms'
Rising from the stool in the opposite corner is Mauricio Sulaiman, the president of the World Boxing Council (WBC), whose organisation was the first to reduce men's world championship fights from 15 rounds to 12 in 1982.
Sulaiman is adamant the WBC will never budge when it comes to the duration of women's contests.
"The more time you fight, the higher the dehydration and fatigue," he said. "The risk factor increases. It is also a fact that women have stronger symptoms after concussion and suffer more pain and take longer to recover."
Sulaiman says natural differences in strength and stamina are taken into account in other sports, such as tennis, and there is credence in the theory that injuries in boxing are often caused or aggravated in the later rounds - by the volume of punches and the inability to avoid them as the mind and body wilt.
Analysis
Adams was given clearance by the British Boxing Board of Control to fight over three-minute rounds in her most recent contest, in May, and has been vocal in her demands for equal fights.
Those with an Olympic pedigree are bringing an improved level of proficiency into the professional ring and, as standards rise, so the authorities must move with the times.
The resilience and talent of the best of the new generation must be acknowledged when creating the framework for future regulation. As the competition pyramid grows, we can expect advances in strength and conditioning as well as in general ability, with improvements in punching power offset by better defensive technique allied to greater stamina.
The ICHIRF study is at the halfway stage and the work of Dr Turner and his team might provide important guidance.
"It doesn't matter where it comes from, if you knock somebody out in a car crash, if you knock them out in a boxing bout, if you knock them out on a racecourse, the result is the same," he said.
"The brain suffers the same impact and therefore I'm hoping that the results of what we have for our female jockeys will be applicable to other sportswomen across the globe."