Billy Joe Saunders v David Lemieux: WBO middleweight champion feels rejuvenated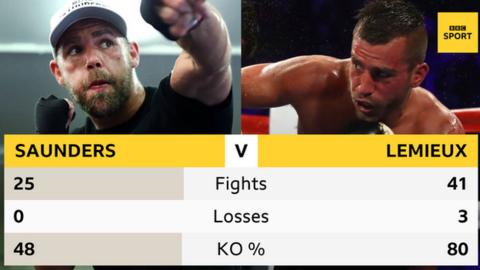 Billy Joe Saunders has revealed how he came close to quitting boxing as he prepares for his WBO world middleweight title defence against David Lemieux.
Saunders, 28, is undefeated in 25 fights going into Saturday's bout with Montreal-born Lemieux in Laval, Canada.
Since winning the WBO title in 2015, Saunders has been frustrated at not facing top names in the division.
"I fell out of love with it a bit," Saunders told 5 live boxing. "I could have retired and lived comfortably."
"Fights were falling through. I thought if this is what it is like at the top, I'm a fat mess, and it gave me no motivation. I genuinely had in my head to retire."
'My time is just starting'
Saunders says he managed to become a world champion "while not being in love with boxing" and failure to land shots at the likes of Gennady Golovkin or Saul 'Canelo' Alvarez only lessened his motivation.
A move to train with Dominic Ingle in Sheffield has noticeably seen Saunders' physical appearance change and Ingle himself says a win against Lemieux will see his fighter reach "box-office status".
"I needed to get away from London completely," added Saunders. "It's alright going to Spain for six weeks for a camp but I have been up here now for six months.
"This is not playing about now, this is the elite, world class men and this is how it has to be. I really fancied the Ingle Gym, I came here and fell in love with it.
"I put it into perspective. Boxers get used for the time we are good and when your time is up you are off the shelf. The problem with boxing is you don't see the years going. Then your performance dips and you think it's a bad night. The reality is you are getting that little bit older until eventually your time is up.
"If I think my time is done I will be the first to say. You have to be shrewd in boxing and know when time is up and given how I was living before this, my time is just starting.
"I haven't been as fit and in such shape. I'm not eating rubbish, having late nights. I'm training and resting. Never in my boxing career have I been ahead like I am now."
'It will be hell for him'
Lemieux has three defeats in a 41-fight career. The 28-year-old lasted eight rounds with Golovkin - who holds the division's other three belts - in 2015.
His mark of 33 knockout wins provides evidence to a heavy-hitting style which contrasts Saunders' record of stopping just 12 of his 25 opponents.
"I'm more excited, actually, just to lay my hands on Billy Joe Saunders more than anything else," said Lemieux. "He's got a big mouth. It's rare I see fighters with such a big mouth. I just hope his fighting is going to come as close as his mouth on Saturday night.
"It's actually going to be hell for him."
'A brave move for a champion' - analysis
BBC Sport boxing correspondent Mike Costello:
"I believe Saunders when he says he can make this fight as tough as he wants it to be. Clearly, Lemieux hits hard and is in his own country but I think Saunders has enough skill to hold him off."
BBC Radio 5 live boxing analyst Steve Bunce:
"The stuff Billy Joe says about a boxer not seeing the years going by, that is poetry. Billy is right, he wasn't in love with boxing.
"Billy Joe Saunders under lock and key in Sheffield for the next two or three years is a terrific fighter.
"A British champion going overseas to defend against a danger like Lemieux, in a hostile backyard, you have to give him some plaudits for that. You have to go back a bit through boxing history to find a Brit going abroad not to win a title but to defend it."