Boxing in 2017: Mike Costello & Steve Bunce pick apart an incredible year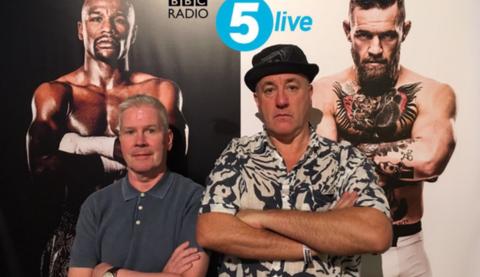 2017 was the year boxing met UFC, Andre Ward walked away, and we saw the quickest ever finish to a world-title fight.
There was joy for Ryan Burnett and George Groves, dismay for Kell Brook and James DeGale, and record-breaking attendances watching British heavyweight Anthony Joshua.
As part of their weekly BBC Radio 5 live podcast, boxing correspondent Mike Costello and analyst Steve Bunce dish out their end-of-year awards.
Do you agree with their choices? Comment at the bottom of this piece or have your say using #bbcboxing on Twitter.
Moment of the year
Mike Costello: People may scream when I say Conor McGregor but, in particular, there was a moment when he was talking at the post-fight news conference after defeat by Floyd Mayweather in Las Vegas in August.
He was joking around and then broke off and started talking about his experiences in sparring following his switch from UFC. He said: "One of the main things was going from five rounds to 12. I had to experience that 12-round fatigue. In the spars, with all my partners, in the 12 rounds I'd get to say six and I couldn't see the finish line."
What was said showed he was paying tribute, not just to world champions but to those hard souls who fight all around the world. It was his respect to show how difficult it is to get those 12 rounds done.
Steve Bunce: In Las Vegas for Mayweather-McGregor. My moment? That first round, that first bell, that first second. In all my years in boxing I can't remember not knowing what was going to happen, and wanting to know what was going to happen so badly.
For all of the zillions of experts out there, no-one got that first 20 seconds right. Who knew McGregor would come out and box brilliantly and that Floyd would be made to miss a bit? That was my moment - that ding, ding, ding, first few seconds.
Round of the year
Mike Costello: It was hard to believe what I was witnessing when Ukrainian middleweight Ievgen Khytrov took on the teak-tough Immanuwel Aleem at the Barclays Center in New York.
The second round saw 200 punches thrown. There are only 180 seconds in a round.
A huge chunk were from Khytrov, and what came in the third was breathtakingly brutal. Both men were on top twice in the three minutes. At one stage Khytrov fell down next to me - I could have touched him. He got up and finished the round on top. If anyone hasn't seen it, go and find it. It is unbeatable as the round of the year.
Steve Bunce: 90,000 people, Wembley Stadium, Anthony Joshua's win over Wladimir Klitschko. Joshua comes out in the fifth round like it's only a five-round fight.
Klitschko marks up, his legs start to go and finally, after a 30-second assault, he collapses in front of me. I swear I have some of his blood on my notepad. He has a cut, he's pawing at one of the ropes to get up. There is one second, with everyone on their feet, I had a moment of genius and looked across at Joshua. He was draped in the other corner like he was unconscious and exhausted. Joshua was finished. At the end of that round, having dropped Klitschko, that's the round where Joshua's trainer said he was most scared as his man was utterly exhausted.
Punch of the year
Mike Costello: I will go for the one thrown by Zolani Tete just seconds into his WBO world bantamweight title bout against Siboniso Gonya, earning him a record for ending a world-title contest in the process.
He throws this right hook, and because the fight was so short, it's easy to overlook the staggering brilliance in the setting up of that punch. Tete feinted with his right hand, drew an attempted parry from his opponent and created the room for a right hook to the chin.
All of this in 11 seconds, with the punch in a split-second, brilliantly crafted. Comfortably the best punch of 2017.
Steve Bunce: Chris Eubank Jr's left hook in that mad fight in Stuttgart against Avni Yildirim.
Yildirim had manhandled James DeGale in sparring before the Badou Jack fight in January and is no slouch. Eubank pushes Yildirim away off the ropes and then lands a left hook, Yildirim is out before he hits the floor. Eubank wanted to make a statement in the World Boxing Super Series and that was the best punch thrown by a British boxer this year.
Upset of the year
Mike Costello: I could say one upset was seeing Andre Ward retire. In my time as BBC boxing correspondent, he is one of the very best I have seen.
In the ring, I'll go for James DeGale losing to Minnesota's Caleb Truax having been 1-100 with some bookmakers. It was the way it happened. Had it been a sneaky overhand right knockout you could understand. It was how quickly DeGale lost control of the fight.
In the second round, I started mentioning how much the Badou Jack draw in January had maybe taken a lot out of him. We forget also the amount of hard sparring DeGale has done over the years.
Remember Carl Frampton was criticised recently for saying he will do less sparring to protect his brain. I know DeGale's coach is a massive fan of long sparring because he's told me for years about 'money in the bank' in terms of endurance and stamina. Maybe that was part of what happened on the night with Truax.
Some fighters almost need to psychologically know they have so many rounds in sparring. I remember being told Oscar de la Hoya needed 125 rounds during a camp - this was a man with more than 300 amateur fights.
Steve Bunce: The heavy sparring is interesting. Nigel Benn hardly sparred late on in his career - if he did it was just a few fast rounds.
Perhaps fighters like Frampton have picked up on it, and I will go for Frampton as my upset of the year. His loss in the rematch with Leo Santa Cruz, I know it was tight but, the upset was that everyone got it so wrong in the Frampton camp.
This will not win me many friends but his trainer Shane McGuigan and the McGuigan camp got it wrong all night. Santa Cruz boxed, something we were told he couldn't do, and after six rounds surely they should have realised he was able to do it. The way he won was a shock to me.
Fight of the year
Mike Costello: The draw between Saul 'Canelo' Alvarez and Gennady Golovkin was a special contest between two brilliant practitioners but I have to go back to the fight which contained my round of the year - Khytrov's loss to Aleem.
Five times you thought one man would win only for the action to swing back the other way. Aleem won but lost next time out. We have talked about DeGale's loss to Truax following his bout with Jack earlier in the year, perhaps like DeGale with Jack, Aleem had too much taken out of him by Khytrov.
Steve Bunce: Every single second of Golovkin-Canelo was must-watch TV.
But I'm also going to have to go with the fight I nicked the round of the year from - Joshua-Klitschko. If I didn't go with it, I'd be trying to be cool and hip.
It wasn't just a fight that launched Joshua, it was one that re-established British boxing and showed what we can do.
I maintain that when Joshua gets knocked down in that sixth round, he is out cold. He goes down, wakes up as he hits the floor and then survives the round as both of them are wrecked. They fight on, struggle on. It wasn't the most technically brilliant fight, it wasn't flawless, it was a fight made because of its flaws.
Fighter of the year
Mike Costello: Joshua - because of the impact on British boxing and the heavyweight division. It is emphasised with the likes of George Foreman and Mike Tyson saying how important he is for the division.
It has re-energised the US and the potential for that big showdown with Deontay Wilder. And that is a genuine 50-50 fight. Both men have similar backgrounds. They each went quickly to the Olympic Games after taking up the sport and have since gone rampaging through prospects as professionals.
There is no question that Joshua transcends boxing. For what he has done inside and outside the ring - he is born for it - and he has a connection with his public. The Joshua story is one that will only grow and grow.
Steve Bunce: I find this hard to choose.
Joshua is the obvious big one. Then there's Billy Joe Saunders because of his win over David Lemieux last weekend, or Eubank Jr for three very professional wins. Then George Groves is in the mix, winning a world title against Fedor Chudinov and beating Jamie Cox. I'd put those three in joint second but no-one can touch Joshua.
Who are the best - pound for pound?
Costello: 1 Vasyl Lomachenko; 2 Terence Crawford; 3 Oleksandr Usyk
Bunce: 1 Lomachenko; 2 Crawford; 3 Gennady Golovkin