Scott Quigg: Boxer says he could be regarded as underdog for Oscar Valdez bout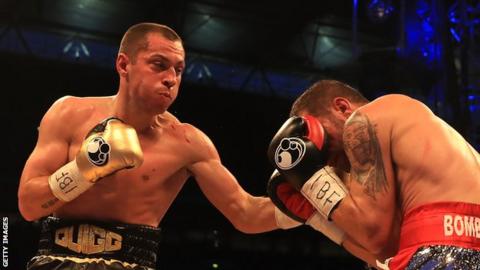 Former WBA super-bantamweight world champion Scott Quigg says he could be regarded as an underdog if a planned fight with WBO world featherweight title-holder Oscar Valdez goes ahead.
The 29-year-old's promoter Eddie Hearn has said a deal is "close".
And Quigg says the fight, which is set to take place on 10 March at Stubhub Center in Los Angeles, is "99% done".
"He's not put a foot wrong. He's had 23 fights, 23 wins and 18 knockouts. He's done everything right," Quigg said.
Speaking to BBC Radio Manchester, Quigg continued: "The Americans are building him as the next big star so I'm probably a slight underdog, that's what people will be thinking.
"I don't see myself as an underdog. All I know is that I've got to put the work in and I'm very confident I can do the job."
Since losing the super-bantamweight title to Carl Frampton in February 2016, Quigg has won three fights at featherweight against Jose Cayetano, Viorel Simion and Oleg Yefimovych.
And he believes he could extend his ring career for a further four or five years.
"As a smaller fighter, if you look after yourself you can prolong your career but I'd say 33 or 34, max," Quigg said.
"When I'm not as good as I was because of reactions slowing down, I will not carry on because I've dedicated too much and it's too hard of a sport to mess about."