Commonwealth Games 2018: McCormack twins named in England boxing squad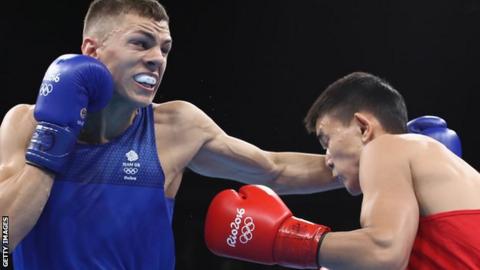 Twins Pat and Luke McCormack have both been included in the England boxing squad for the Commonwealth Games in Australia in April.
Welterweight Pat McCormack competed at the previous Games in 2014 and the Rio Olympics in 2016 and is a two-time European silver medallist.
The England squad features 10 debutants, including 2014 flyweight world championship Lisa Whiteside.
Olympian Muhammad Ali is banned after failing a drugs test.
Kent boxer Cheavon Clarke will make his second appearance at the Games, having competed for the country of his birth, Jamaica, four years ago.
The squad will acclimatise at a 10-day preparation camp in Brisbane before the Games start on the Gold Coast on 4 April.
Pat McCormack said: "I competed at the one in Glasgow but I was young and inexperienced then and did not win a medal.
"Since then I have been to the world championships twice, won two silver medals at the Europeans and been to an Olympic Games, so I will have a lot more confidence and experience going into the competition this time.
"Competing alongside my twin brother will make the tournament event more exciting, and if we both come home with gold, it will definitely put us out there."
Whiteside, a 2016 European Championship bronze medallist, said: "It will be my first multisport event and knowing that my friends and family back home will be able to watch is going to be out of this world."
Squad: Cheavon Clarke, Frazer Clarke, Calum French, Natasha Gale, Luke McCormack, Pat McCormack, Peter McGrail, Paige Murney, Sandy Ryan, Ben Whittaker, Lisa Whiteside, Galal Yafai.