George Groves v Chris Eubank Jr: Sparring tales, huge rewards, power meets speed - but who will win?
Last updated on .From the section Boxing164
Eubank Jr v Groves
Venue:
Manchester Arena
Date:
Saturday, 17 February
Coverage:
Live text commentary on the BBC Sport website from 21:00 GMT
It is the all-British fight that sold out in seven minutes, where a world title will be on the line and where one man will reach the final of a tournament boxing pundits have hailed a "revelation".
It is the fight where WBA world title holder George Groves says he will make a "statement" in the super-middleweight division and one where Chris Eubank Jr vows to prove he is not the "gimmick" the champion says he is.
Groves-Eubank at Manchester Arena on Saturday night is one of the most hotly anticipated bouts the UK has seen in years.
So who claims they once had an edge in sparring? Why can't our BBC Sport pundits agree on a winner? And who has annoyed Tyson Fury?
'Everyone in my path is in trouble'
"Eubank Jr is at the opening of a crisp packet or a fridge door," Groves told BBC Sport. "He talks about living in the gym, the week after he's at a premiere. He's obsessed with how he's being perceived. "
Groves was the antagonist prior to captivating bouts with Carl Froch in 2013 and 2014. This time around his insults have been sparing, usually retaliatory, and often cutting.
He has questioned the relationship between Eubank Jr and his father - former two-weight world champion Chris Eubank - and is perplexed at why bookmakers make him an underdog, despite holding the WBA belt and having contested five world-title bouts - five more than his opponent.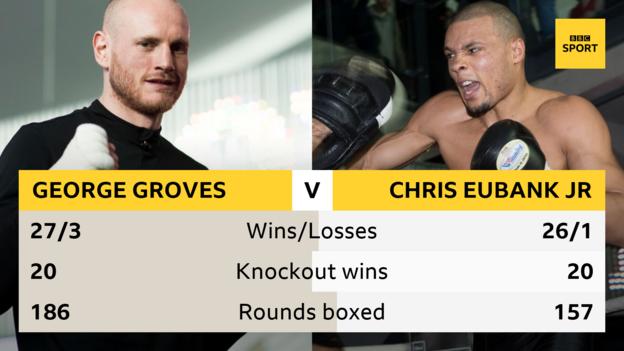 A poll by Boxing Monthly saw 20 of 30 experts expect Eubank Jr to land the biggest win of his career.
The 28-year-old has sought an edge in the build-up through verbal exchanges, labelling Groves "mentally weak" and stating past sessions they shared were "heavily" in his favour.
"All my mind is set on is going in there and taking this guy out, taking that belt, and fulfilling a dream of mine, to hold multiple world titles," he said.
"There are those guys out there who don't think I'm real. They think this is a gimmick still or I've been lucky, or whatever. They're still there. So until those are gone, everyone in my path is in trouble."
More power than Golovkin?
Former world heavyweight champion David Haye claims he watched around 100 rounds of sparring between the two and says "every single one of them was tasty".
Groves is only a year older than Eubank Jr at 29 but had a longer amateur career and has spent nearly 10 years as a pro, three more than his rival.
Allied with his experience he brings power.
Martin Murray - who has contested world titles on four occasions - has gone on record stating that having been in the ring with both Groves and WBA, WBC and IBF middleweight champion Gennady Golovkin, it is the Briton who punches harder.
Golovkin's power is so revered that ESPN have studied how he generates it, so Murray's claim is noteworthy.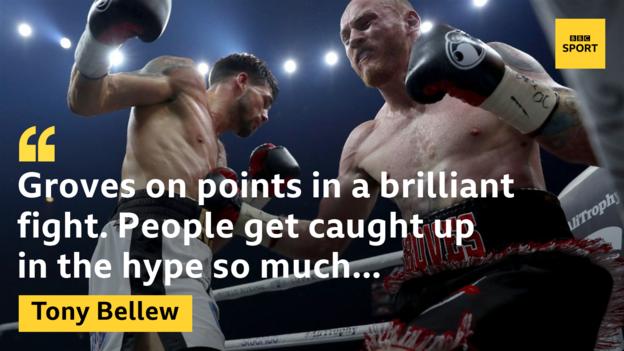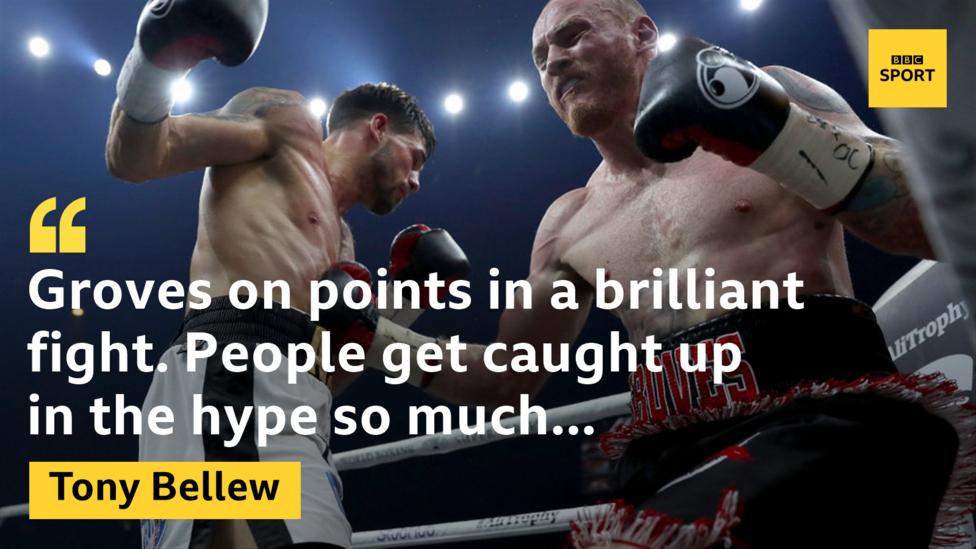 And Groves, a natural super-middleweight, is expected to hold around a stone in weight advantage against a fighter who previously campaigned a weight division below.
But Eubank Jr counts speed as his key asset and video footage of him throwing 96 punches in 11 seconds during training back up his claims.
And he believes he will dig deeper to win. In sparring with Cuba's bronze medal-winning Olympic heavyweight Erislandy Savon in the past, Eubank says the "savage beating" he absorbed allows him to hold no fear of Groves' size advantage.
Fury's furious - 'I will not back down'
The contrast in styles where power meets speed, the success of the World Boxing Super Series and the genuine talents of both men mean this bout has not needed substantial marketing to tempt in fight fans - they were already sold when the draw was made.
But this is boxing, so a little controversy is never far away.
Notably, Eubank Jr's father used social media to insist the referee must keep an eye on Groves to ensure he does not sustain injury, referencing Nick Blackwell, who was left fighting for his life after defeat to Eubank Jr in 2016.
Former heavyweight world champion Tyson Fury said Eubank Snr was a "disgrace" for using Blackwell's injuries as a "threat" to Groves, while promoter Frank Warren was also highly critical.
Groves feels the comments may pressure the referee if he is in trouble at any stage but Eubank Snr claims he is being "mindful" for both fighters
"I will not back down from my ground," Eubank Snr told BBC Sport. "No-one is paying attention to what happened to Nick Blackwell. It happened and it will continue to happen if referees are not mindful of what is going on in that ring.
"I want to make sure it doesn't happen again. We need the referee to look after both fighters."
Why does it matter?
There are tangible rewards on offer in the world title Groves won at the fourth time of asking in 2017 and the World Boxing Super Series final spot.
Both men scored knockout wins in the quarter-finals. The winner of June's final will claim a hefty chunk of a $50m prize pool and be the first super-middleweight to raise the Muhammad Ali Trophy.
Groves told BBC Sport: "I believe once I win I'll be regarded as one of the best in the division because people are painting it as a 50-50 fight. I feel I will get rid of him early and I believe that will be a huge statement in the division."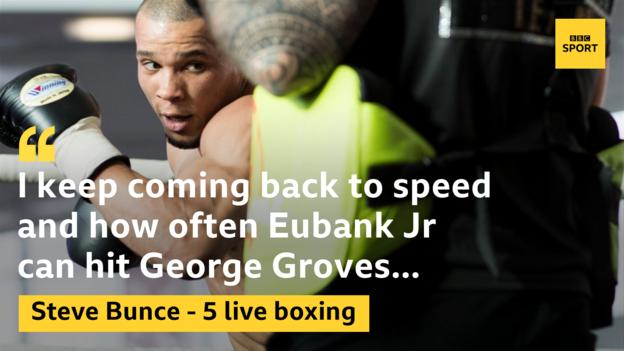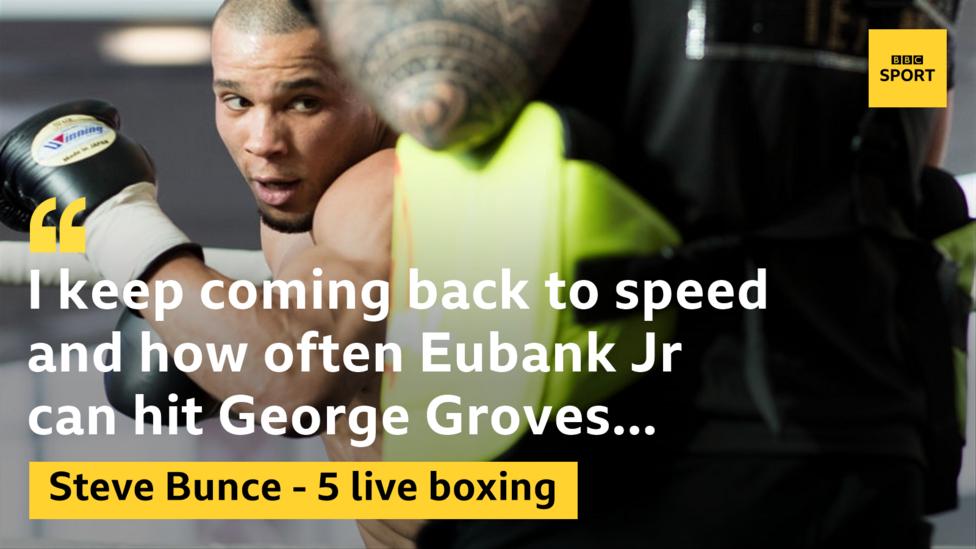 BBC Sport boxing correspondent Mike Costello believes the tournament has been a "revelation", while Eubank Jr says he "loves" the structure provided by a tournament format compared to boxing's sometimes unpredictable landscape.
But away from the result, fans will learn more as to whether Eubank Jr can truly emulate his father, who held a world title at super-middleweight for almost five years from 1991.
The challenger believes this is the bout that will carry him out of Eubank Snr's shadow but, against a fighter as robust as Groves, he may well find himself in the type of battle his father gained a reputation for being able to handle.
Eubank getting better - pro predictions
Great Britain's Callum Smith, who faces Germany's Jurgen Brahmer in the other semi-final next week: Groves has got the jab, the boxing brain and the size on his side. I think his weakness is his stamina whereas Eubank's strength is his stamina. I will pick Groves on points. I believe he will win the early rounds with a few rocky moments later on.
Former WBC world cruiserweight champion Tony Bellew: This fight excites me and I'm tipping Groves on points in a brilliant fight. Don't be surprised if he actually stops him. It's a huge super-middleweight against a small middleweight in my opinion. The only things he has on Groves are workrate and youth. People get caught up in hype so much.
Former WBA world lightweight champion Anthony Crolla: I do believe Eubank Jr is improving all the time and I see the second half of the fight swinging in his favour. I'm not confident about it but I will go with him.
WBO world middleweight champion Billy Joe Saunders: You're either an extremely good fighter or an extremely good boxer. Eubank is an extremely good fighter but can't handle a boxer. If Groves boxes him, he'll win; if he gets careless, he'll get beat.
The final word - Costello & Bunce
BBC boxing correspondent Mike Costello: There are some very stern arguments between people who know the game and who are on different sides of the fence here.
I think this fight will be won at distance. If George Groves can keep Chris Eubank at the end of a very powerful jab, I think that could be key. I side with Groves. It is ultimately fascinating because their styles are so different.
BBC Radio 5 live boxing analyst Steve Bunce: I fancy Eubank for his speed. I know George has a better jab and has a longer reach, he probably has a harder single right hand but I keep coming back to speed and how often Eubank Jr can hit him. He is a smarter fighter than people give him credit for. Over the last couple of years, a real smartness has developed.