Scott Westgarth's death 'so sad' for his family and British boxing - Anthony Crolla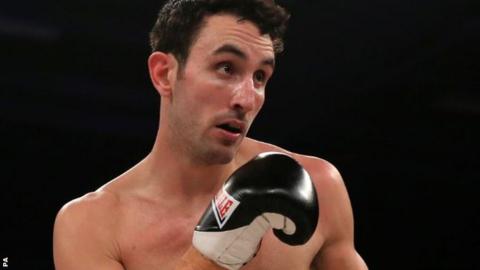 Scott Westgarth's death is "so sad" for both his family and British boxing, says ex-world champion Anthony Crolla.
Westgarth died in hospital at the age of 31 after falling ill following his victory over fellow Englishman Dec Spelman in Doncaster on Saturday.
The rest of the programme, which was headlined by former footballer Curtis Woodhouse, was cancelled.
Woodhouse, who was due to fight in a Commonwealth title eliminator, has said he may not box again.
'You just never think it's going to be you'
Crolla is a former WBA lightweight world champion who has fought 41 times as a professional.
The 31-year-old said he struggled after ending the career of Kieran Farrell, who needed surgery after their fight in December 2012.
"It affected me deeply," the Mancunian told BBC Radio 5 live.
"My trainer and team around me thought for a while I had lost that spark, that nastiness to my work. I didn't realise at the time, but when I look back I probably did.
"You just never think it's going to be you, but it highlights the dangers of boxing.
"It's a sad, sad time for British boxing, for all of Scott's family, for his opponent, and anyone around him."
'It makes you question everything'
Woodhouse, a former British super-lightweight champion, was due to fight John Wayne Hibbert in the main event on Saturday.
He told Talksport: "It makes you second guess and question everything. What we are doing, the morality of it all, how can we justify what we do as a profession and as a sport?
"I am not sure whether I want to even fight again and go through it all again."
Canada's Tim Hague was the last professional boxer to die following a fight, two days after a bout last June.
"We've got some of the best health and safety regulations," Crolla said.
"If there's any changes in brain scans or your vision, you become under close scrutiny… sometimes the licence gets pulled from you."
He said the British Boxing Board of Control was "doing everything they possibly can to try and ensure it will never happen again" but added: "There is always that tiny chance that it can."
Former featherweight world champion Barry McGuigan, whose Nigerian opponent Young Ali died in 1982 following a sixth-round knockout, expects changes to be made.
And British former world heavyweight champion Lennox Lewis was among those to pay tribute.
Analysis
BBC Radio 5 live boxing commentator Steve Bunce:
"It was after the fight that he started to look distressed. He was in trouble, and the moment he got back to the dressing room he complained of head pains.
"After nearly 20 years without a death in a British boxing ring, we've now had three in five years. It doesn't get any easier to report them. It doesn't get any easier to sit at ringside and watch them.
"I've never been a tourist, it's my life. They died because they died and there is nothing we could have done to prevent their deaths.
"These three deaths have been in low-key fights. There's nearly 1,000 licensed professional boxers in Great Britain - the most we've had since the 1950s."