Michael O'Reilly: Irish boxer handed four-year ban for doping offence before Rio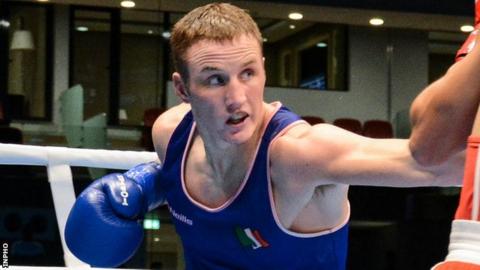 Irish middleweight Michael O'Reilly has been banned for four years for his failed drugs test on the eve of the Rio Olympics in 2016.
World championship bronze medallist O'Reilly, 24, tested positive for the banned substance methandienone.
The county Tipperary man said the offence had been "unintentional".
However the Irish Sport Anti-Doping Disciplinary Panel said he had not proved "his admitted anti-doping rule violation was not intentional".
O'Reilly, whose ban will run until 10 July 2020, becomes the first Irish amateur boxer to be handed a four-year ban for a doping offence.
News of his positive drugs test came on the day the draw was made for the boxing competitions in Rio.
O'Reilly was provisionally suspended the following day and it was the start of a hugely disappointing Games for the highly-regarded Irish boxing team as they failed to win any medals.
A final verdict in the case was delayed by O'Reilly's appeal against Sports Ireland's initial recommendation that he be given a four-year ban plus the boxer's request to be granted additional time to obtain an expert's report.
The final hearing took place on 7 December last year, before the verdict was released by the Irish anti-doping authority on Monday.
O'Reilly won the European Games gold medal in Baku in 2015 and later that year clinched bronze at the World Championships in Doha.