Kell Brook v Sergey Rabchenko: Sheffield bout 'a springboard to second title shot'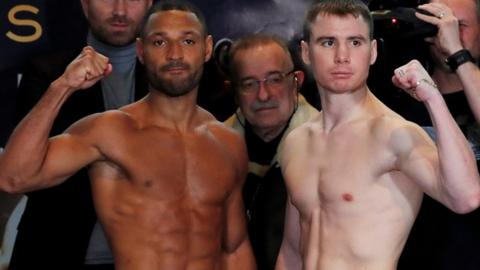 Kell Brook v Sergey Rabchenko
Date: 3 March 2018 Venue: Sheffield Arena Coverage: Live text commentary on BBC Sport website from about 21:30 GMT
Britain's Kell Brook says the challenge of Sergey Rabchenko can set him on his way to become a world champion again.
Brook, 31, faces the Belarusian at Sheffield Arena on Saturday in his first bout at light-middleweight, having lost his IBF world welterweight title last time out.
Brook says the move up in weight will stop him being "drained" and that he is "loving boxing again" after surgery.
"Even as a teenager, I wanted to move up the weights and win belts," he said.
"I want to be a two-weight world champion. I've never been satisfied winning one world title.
"I need to get the win and then we can start targeting the champions at 154lb."
Brook weighed in at 10st 13lb 7oz, three ounces heavier than Rabchenko.
'An opponent to motivate me'
Brook's return to the ring follows defeat at the hands of highly rated American Errol Spence Jr in May, when he lost his title in front of his home fans at Bramall Lane and sustained a fractured left eye socket.
The injury followed a broken right eye socket suffered against Gennady Golovkin eight months earlier and a second surgery left many wondering if Brook was safe to return to the sport.
He has since told BBC Sport his mood was left very low after defeat by Spence Jr and he said the public are "right to question" what he has left after back-to-back defeats and serious surgeries.
"I've got the butterflies and nerves just like it's my first time getting in there," said Brook.
"I need to feel like that, though - those nerves are going to make me sharper because I know that there's a lot at stake on Saturday.
"I'm loving boxing again and things can change, and I still feel that I've got big fights left in me before I call it a day.
"There was a list of fighters in front of us and Rabchenko stood out.
"He's a very dangerous fighter and the fans might have let me off fighting someone lesser than him, but I wanted to fight him because I need to come back in a serious fight to stay switched on and not cut corners in the gym."
'It will take a hell of a lot to beat him'
Rabchenko delivered the sixth and final defeat of Brook's former gym-mate Ryan Rhodes' career in 2012, so his threat is well known by those at the Ingle Gym in Sheffield.
He boasts a record of 29 wins and two defeats, with seven wins from seven on UK soil.
But the Minsk fighter is not seen as the only threat, with many in the sport keen to observe how Brook deals with the mental side of knowing both his eye sockets now house metal inserts.
Brook jokes that the inserts make him "like a terminator" as he prepares for life at light-middleweight, but those close to him said his mood needed lifting over the Christmas period, when trainer Dominic Ingle encouraged him to attend a training camp in Fuerteventura.
"He always prepares 100% no matter what weight he is at," said Ingle.
"The only difference this time is the food consumption. You can tell the difference as with more to eat he's a lot happier in himself. Maybe at this age, this weight will suit him a lot better.
"Rabchenko is a tough kid with only two losses on his record. He's one of those kids you won't get a lot of credit for beating him but it will take a hell of a lot to beat him."
'Nervous over unanswered questions'
Ingle has praised Brook for willingly moving into a spare room close to the gym in order to shut himself off and focus on his return.
The trainer expects his charge to fight no more than three more times and. while Brook is targeting a world title, many within British boxing expect him to face off in a lucrative bout with compatriot Amir Khan at some stage.
Brook says he will not be "fed crumbs" financially in order to secure the fight but defeat by Rabchenko would drastically weaken his negotiating position, should one be left at all.
Promoter Eddie Hearn said: "Rabchenko is a tough guy, can punch, likes to come forward. I'm a bit nervous. We will find out everything we need to know about Kell in this fight, all the unanswered questions."