Commonwealth Games: NI boxer Wallace deselected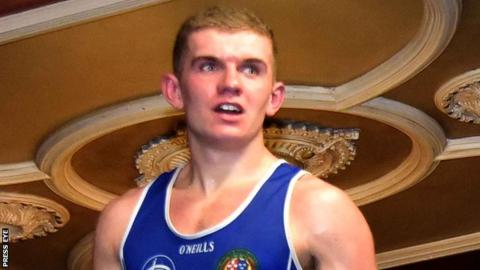 Boxer Conor Wallace has been dropped from the Northern Ireland team for the Commonwealth Games in Australia.
On Wednesday the police said they were investigating a complaint against a 21-year-old from the Newry area in relation to an allegation concerning child protection.
Mr Wallace denies any wrongdoing and his solicitor has said the boxer is set to appeal against his deselection.
"We intend looking at options to appeal this decision," said the solicitor.
It is believed that a complaint against the boxer is the reason he has been given for the Northern Ireland Commonwealth Games Council's decision.
Mr Wallace has not been arrested or questioned.
"We have put the committee on notice that if this decision is not reversed, we will have no option but to seek an injunction," said Mr Wallace's solicitor.
"Our client has not been arrested or questioned by the police. We are convinced that Mr Wallace will be exonerated in due course."
The current Ulster light-heavyweight champion is well-known for working with UFC Superstar Conor McGregor during a 2016 training camp in America.
It is believed an athlete who missed out on selection may now be called into the Northern Ireland team.
The Northern Ireland Commonwealth Games Council's statement added: "The NICGC are investigating all options regarding a potential replacement athlete, working within the comprehensive selection process which has been running for the last 18 months, and any decision will be notified within days."
Track and field athletes Amy Foster and Kerry O'Flaherty were the most prominent omissions from the original 88-strong Northern Ireland team named in early January and could be among those being considered for inclusion if Wallace's deselection is upheld.