Carl Frampton: World title up for grabs in Donaire fight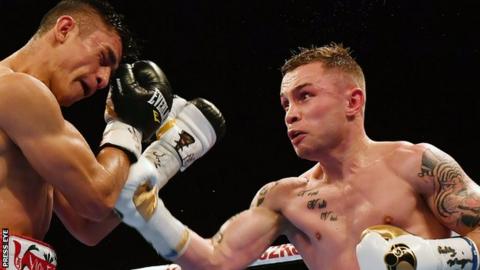 Carl Frampton and Nonito Donaire will be fighting for the WBO interim featherweight world title in their Belfast contest next month.
Thursday's announcement adds extra spice to the showdown between Belfast boxer Frampton and former four-weight world champion Donaire.
"A huge night of boxing just got even bigger," said former two-weight world champion Frampton.
"It's great news and it adds a whole lot more razzmatazz to the event."
The 35-year-old Filipino is expected to provide tough opposition for Frampton, having held seven world titles in a career that has lasted 17 years.
Frampton won on points in his comeback fight with Horacio Garcia in November and returns to the SSE Arena ring against Donaire on 21 April.
"I was sure that the winner of this bout was going to go on to fight for a world title in their next contest and having an interim world title on the line all but confirms that," added the 31-year-old.
"Oscar Valdez must face the interim champion when he is ready and that's a big incentive for myself and Donaire.
"The Valdez fight is very appealing to me and obviously the winner of Selby v Warrington is also equally as appealing.
"I think the Valdez fight would get a lot more attention on both sides of the globe rather than just in the UK.
"The winner of Selby v Warrington would be a big fight in the UK but a fight with Valdez would be a huge fight worldwide."