Joshua v Parker undercard: Alexander Povetkin upset would change life, says David Price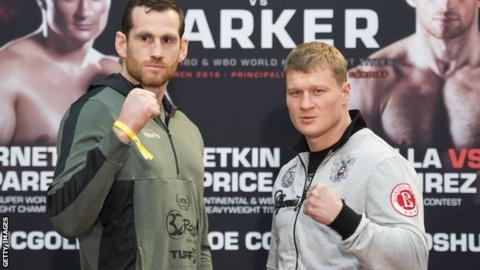 David Price v Alexander Povetkin
Venue: Principality Stadium, Cardiff Date: Saturday, 31 March
British heavyweight David Price says he hopes to "change his life" by shocking Alexander Povetkin on Saturday.
Price, 34, meets the Russian in the chief support fight to Anthony Joshua's world heavyweight title unification bout against Joseph Parker in Cardiff.
Povetkin is 1/20 with some bookmakers and Price knows his career will be questioned if he suffers a fifth loss.
"I am desperate," Price told BBC Sport. "I am up against it. But in every sport, there are upsets weekly."
He added: "It's a massive opportunity for me to turn around my boxing career. I have to get the win and change my life in the process. I'm not supposed to win this fight. It can wipe out any negativity in my career."
Povetkin has only ever been beaten by two-time world heavyweight champion Wladimir Klitschko in a 34-fight career.
And he is ranked as the number one challenger by both the WBA and WBO - behind champions Joshua and Parker respectively.
The 38-year-old represents a huge step up in class for 2008 Olympic bronze medallist Price, who began his pro career with 15 wins before falling to four defeats and suffering subsequent fierce criticism.
"Every negative that's happened in my career has been under a lot of scrutiny because early on in my career I was expected to do this and that but I haven't," Price said.
"You become a bit of an easy target for critics. You know people are dismissing you and not taking you seriously as a fighter anymore. That's difficult.
"There are times where I haven't felt like a professional fighter anymore, I've felt like a normal man.
"Only recently in preparation for this fight have I started to get this feeling back, like I'm a sportsman, an athlete. The size of the event, the opponent, it's real again now."
'I need this more than getting on a moral high horse'
Promoter Eddie Hearn said "you cannot fathom" what a win over Povetkin at Cardiff's Principality Stadium would do for Price's career.
Price is clearly emotional about the point he has reached as a fighter.
Two of his defeats came in back-to-back losses against American Tony Thompson, with another arriving against Germany's Erkan Tepper. Both opponents failed drugs tests in the aftermath.
Price has been vocal about the issue, yet steps into the ring with Povetkin, who has twice failed drug tests himself.
"If I was in a position to say 'no, he's failed a drugs test', I would. But the position I'm in, I need this opportunity way more than getting on a moral high horse about drugs in boxing," Price told BBC Sport in Cardiff.
"Drugs in boxing has impacted on me directly a couple of times. I have played my part in getting rules changed. Now I'm at the point where I have lost care for it.
"The subject has defeated me. There's no point me wasting my time thinking and talking about it.
"Also, I don't believe Povetkin would now risk what he has - a potential fight with Joshua. He probably sees me as someone he doesn't need to juice against anyway."
'I am not mentally weak'
Price, who headlined shows in his home city of Liverpool before his career stuttered, will compete on the biggest stage of his career knowing defeat will prompt serious questions about his future in the ring.
His former trainer Dave Coldwell has spoken of undoubted talent but feels nerves have blighted him in fights.
"I am no different to any other fighter," said Price, who will have a six-inch height advantage and seven-inch reach advantage on Saturday.
"The fight where I was stopped against Teper, I was nearly 20 stone. It was high paced and I gassed out. I'm 20lbs lighter than I was then.
"I wouldn't have done what I've done in boxing if I was catastrophically mentally weak. If I was, I'd have packed in a long time ago. Why would you put yourself through it?
"On Saturday, 80,000 people are not there to watch me; they are there to see Joshua, so the pressure is off."