Anthony Joshua v Deontay Wilder: Unification fight talks 'could start next week'
By Luke Reddy
BBC Sport in Cardiff
Last updated on .From the section Boxing
Negotiations for a world heavyweight title unification fight between Anthony Joshua and Deontay Wilder could start next week, says promoter Barry Hearn.
"It is a fight Anthony Joshua really wants and I think he wants it this year," Hearn said.
But Joshua, 28, says he will not pay Wilder a financial "bonus".
Hearn, chairman and founder of Joshua's promoters Matchroom, told BBC Radio 5 live's Sportsweek programme: "Anthony Joshua wants all the belts - that is the big card Deontay Wilder has got to play [but] commercially, Joshua is far bigger than Deontay Wilder.
"I think Wilder would come over here [the UK] because in the world we live in, in boxing, the couple of million dollars Wilder is getting for a fight is pretty small fry in comparison to the rewards that await him for a Joshua fight.
"I think negotiations will start next week."
A bout between Joshua and Wilder would deliver the first man to hold all four major heavyweight titles.
Joshua says he is in "the most powerful" negotiating position, adding: "Why do I do all this work to give someone else a bonus? Am I getting a bonus now?"
Pointing at his titles, he added: "This is what it's all about, our side are serious about the negotiations.
"I think 2018 was about getting all the belts and we are one away now. I'm not in the business of hype, hype, hype. I'd love to maybe go to America and look at the landscape and see how serious they are, deal with it behind closed doors.
"Negotiations are on social media a lot now but it's serious business and I think you have to sit down privately.
"Look at every one of these belts now, I will have to be the most powerful man on a negotiating table."
'Problems' if Wilder is not next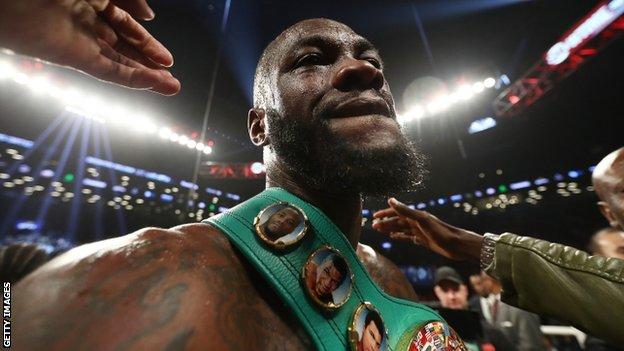 Joshua said he did not condone comments Wilder is now under investigation by the WBC for after he stated he wants "a body" on his fight record.
"Perhaps education could have come a little earlier for him," said Hearn.
"It was a horrible thing to say and something I am sure he regrets, but in the heat of the moment he is just trying to be famous."
And Joshua's camp seem ardent in their approach to negotiations, with promoter Eddie Hearn - Barry's son - stating they have repeatedly overpaid opponents to face Joshua and will not resort to "charity" when it comes to Wilder, who turned down an invitation to sit ringside in Cardiff.
Eddie Hearn thinks if the Joshua-Wilder clash does not happen in 2018 there will be "serious problems" as the bodies Joshua represents as a champion - the IBF, WBA and WBO - will call mandatory challengers, meaning Joshua may have to drop a belt if he wants to avoid a fight in hope of facing Wilder.
"The whole point of the Wilder fight is to win the final belt," he said. "It would not quite be the history fight.
"If his team step up, it could happen next. They are so erratic and unpredictable. Wilder will get what he deserves. He hasn't worked this hard, to get all these belts."
'Ref could not understand English'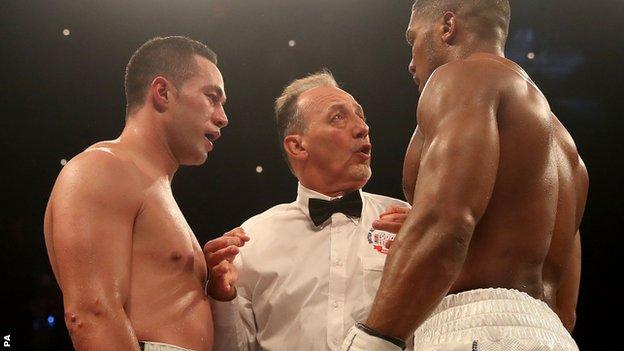 Eddie Hearn dismissed comments made by Parker's trainer Kevin Barry who stated the Italian referee at Cardiff's Principality Stadium could not understand English when asked about how he would officiate before the bout.
Giuseppe Quartarone was criticised for not allowing the two fighters to engage when up close. Such tactics were critical to Parker, who had a six-inch reach disadvantage which showed as Joshua kept him at distance with the jab and left hooks.
"We are not blaming the referee but I wanted to fight and work on the inside," said Parker, 26. "I guess if I was allowed on the inside I could have done more and thrown more."
Parker's promoter David Higgins said he would not want to use Quartarone again but the New Zealand fighter's team were unanimous in stating the better man won on the night.
"I felt fit late on, maybe I was too cautious," added Parker, who now has one defeat in 25 bouts.
"Everything is learning. I could have done more but I just didn't throw all the punches I wanted to throw."
Expect the good, bad and ugly - Joshua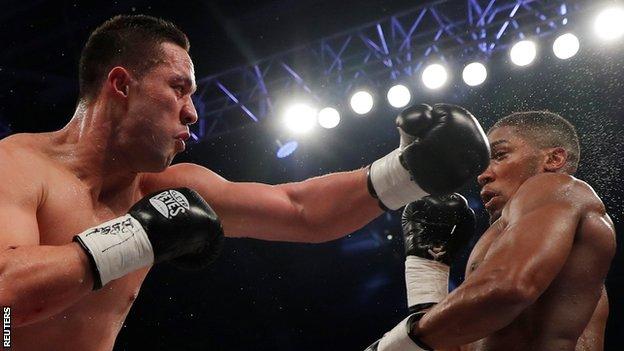 Joshua, undefeated in 21 contests, went the distance for the first time in his career and his trainer Robert McCracken rated it a "nine out of 10" display as they "negated" threats throughout.
And Joshua insisted he knew he had won at the bell and was at no point hurt. Nonetheless, Wilder and former heavyweight world champion Tyson Fury were quick to criticise on social media.
"I knew how to break him down and put him in a position so he couldn't give much back," added Joshua. "Every time he came forward I just rammed that jab in his face.
"We've always been in at the deep end with high expectations. I just focus on improving. I know the expectations of what `I can achieve are very possible but without dedication they won't happen. The sky is the limit.
"I'm not elated because I don't let the highs get to my head. We have to go again soon.
"There's a lot more to come. We have to roll with the punches. I am developing. My amateur career was three-and-a-half years. This October is five years as a pro.
"In boxing I have always put my heart on my sleeve and showed the world good and bad. I will always be honest, give you who I am and my best. Everyone will enjoy this journey and you'll see the good, bad and ugly.
"If I can keep controlling fighters like that, I will be about a long time."