What next for Anthony Joshua after beating Joseph Parker - analysis
Last updated on .From the section Boxing258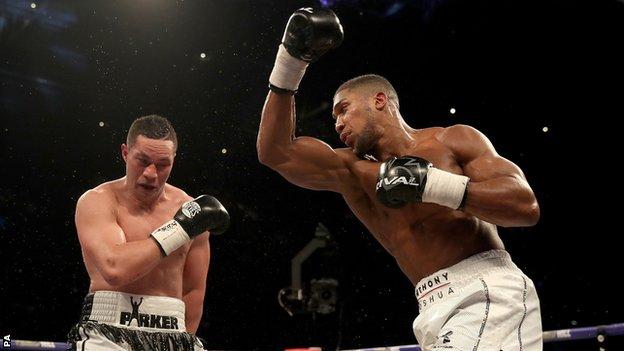 What is next for Anthony Joshua after he unified the WBA, IBF and WBO world heavyweight titles with victory over Joseph Parker on Saturday night?
After Joshua's unanimous points victory over the New Zealander at Cardiff's Principality Stadium, BBC Sport boxing correspondent Mike Costello and boxing expert Steve Bunce talked through the British boxer's performance and looked at what the future might hold for the 28-year-old.
Their analysis comes from the 5 live boxing podcast with Costello and Bunce, which you can download in full here.
Joshua v Wilder not 'happening soon'
The only belt missing from Joshua's collection is the WBC belt - held by Deontay Wilder.
American Wilder, who turned down an invitation to sit ringside in Cardiff, previously stated Joshua does not have the "confidence" to fight him.
After Saturday's fight, 32-year-old Wilder tweeted that Joshua's win was a "robbery" before pretending to call the Briton's promoter Eddie Hearn, telling him to "pick up the phone".
Barry Hearn, chairman and founder of Joshua's promoters Matchroom, said he thinks negotiations "will start next week" - but Bunce thinks there will not be a bout any time soon.
"Sometimes when we look at Deontay Wilder, we know he's got this great record but we don't talk about the fact that last time out [against Cuban Luis Ortiz in March], he came within a second or one punch of losing," he said.
"Whether that adds or detracts from the negotiating table when Eddie Hearn gets to America, I don't know, but it should be a factor. I don't think it's happening soon."
Bunce went on to compare the 'will-they won't-they' fight between Joshua and Wilder with the rematch that never happened between Riddick Bowe and Lennox Lewis, following the latter's win at the 1988 Seoul Olympics, calling it a "disgrace".
Joshua 'has to go to the United States'
While not necessary, winning a fight in the United States is the natural next step for Joshua if he is to follow in the footsteps of some of boxing's greats.
Hearn has previously touted Las Vegas or New York as possible destinations, but it seems more convincing is needed for the man in the middle.
Speaking to Sky Sports, Joshua said he "wasn't interested" in going across to America, adding: "We can do it in London or Cardiff."
But for Costello, Joshua may need to swallow his British pride to take his standing to the next level.
"If he's really looking to push towards that global reputation, if he wants to be remembered somewhere among all the great names, he is going to have to go to the United States," Costello said.
"Britain leads the world in boxing, but for him, it will be an itch that will be there forever unless he does something about it."
What will Joshua learn?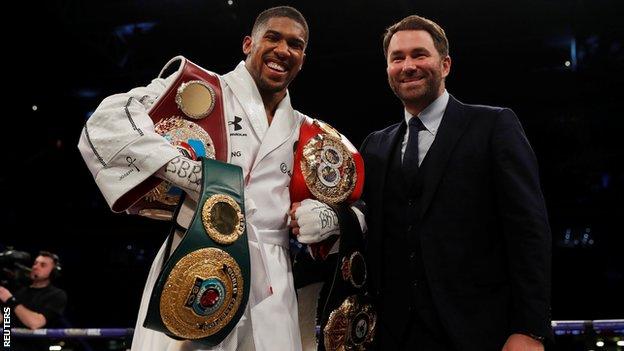 Now undefeated in 21 contests, Joshua went 12 rounds for the first time in his career against Parker, with his trainer Rob McCracken rating it a "nine out of 10" display as they "negated" threats throughout.
But, as Joshua said himself, there is still "plenty more to come" from the London 2012 Olympic champion, with only five years under his belt since turning professional.
"I think that was a solid, all-round impressive display of AJ's boxing ability at this stage of his career," Costello said. "It was his 21st professional fight, and the first time he went the distance.
"It's a big barrier for boxers to get across. He fought at a decent pace.
"His left hand could be the key to much greater success. I think he'll go on to be a better fighter because of tonight's performance."
Tyson Fury next up for Parker?
Parker told reporters he had "no regrets" and would "come back stronger" from the first defeat of his professional career.
Eager to set up his next fight as soon as possible, Parker called for an unlikely rematch with Joshua - but his promoter, David Higgins, has other ideas.
"Higgins mentioned two names - Dillian Whyte and Dereck Chisora," said Bunce.
"I'm throwing another one in the hat, that I think is a much better name. Tyson Fury."
Former world champion Fury, who has been absent from the ring for more than two years, wrote on Instagram during the fight that neither Joshua nor Parker were "good enough" to be his sparring partner.
"I'm convinced Fury will announce he's ending his exile, and his first couple of fights will be against guys who have no chance of beating him," Bunce added.
"But what about Tyson Fury versus Joseph Parker. Parker beat Fury's cousin, Hughie. That's a story with so many headlines - I love it."