Billy Joe Saunders believes Saul 'Canelo' Alvarez should be banned for life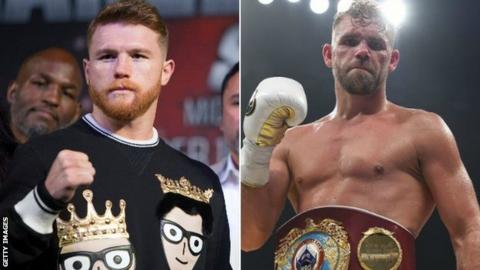 Saul 'Canelo' Alvarez should be banned for life after failing two drugs tests, says WBO world middleweight champion Billy Joe Saunders.
Alvarez, 27, has been banned for six months and claims eating contaminated meat was the reason he tested positive for clenbuterol on 17 and 20 February.
"When you see people enhancing their body to do more damage on someone, I think that's cheating and it should be a ban for life," said Saunders, 28.
"I think it's a disgrace for boxing."
The Briton added: "You get these young fighters coming up now, they're looking at Canelo, looking at what he's got and what he's become. Are they going to think 'we can do that, we can get away with a six-month ban?
"I rated Canelo very highly but now he's gone down in my estimations so much. I don't rate him as a fighter at all."
Alvarez was due to face Gennady Golovkin - who holds the three other major world middleweight titles - in a rematch on 5 May after the pair shared a controversial draw in September.
But he was forced to withdraw, with his promoters saying meat contamination had "impacted dozens of athletes in Mexico over the last years" and stating he would return to the ring in September.
Golovkin now faces American-Armenian Vanes Martirosyan on 5 May.
Saunders' promoter Frank Warren expects Kazakhstan's Golovkin to now face Alvarez in September, adding the Mexican's six-month ban was a "pointless exercise."
And Martin Murray - who faces Saunders for his WBO title on 23 June - said the ban was no more than "a slap on the wrist".
"Anybody else, not as high profile as him, would have got a two-year ban," said Murray, 35.
Saunders - undefeated in 26 bouts - has sought a fight with Golovkin and Alvarez in the past but will put his WBO belt on the line at London's O2 Arena as Murray looks to win a world title at the fifth time of asking.