Anthony Joshua v Deontay Wilder: Eddie Hearn tells Wilder 'show us the money'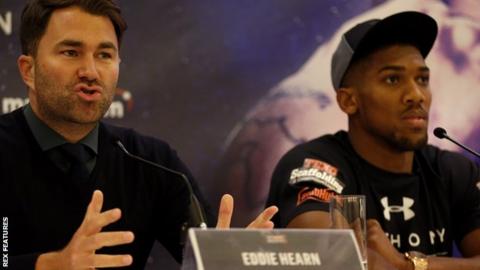 Anthony Joshua wants to "see the money" before agreeing to Deontay Wilder's $50m (£35.9m) unification fight offer, says promoter Eddie Hearn.
American heavyweight Wilder posted a video on Twitter showing WBO, IBF and WBA titles holder Joshua, 28, saying he would accept the fight for $50m.
But Hearn said he must be convinced the money "exists" before agreeing to the bout "in either London or Vegas".
The offer came via an email directly from WBC champion Wilder, said Hearn.
In a video interview on Wednesday, Hearn also said:
The offer "feels like a PR move" but they are "definitely interested"
He would not rule out allowing Wilder's team to pick the fight's date and location
A meeting between both fighters and their advisors is set for Friday
Previously Wilder, 32, said "all the money is in the bag so I expect you will be a man of your word".
Wilder's manager Shelly Finkel confirmed to ESPN that an offer had been made.
Finkel also said the offer contains no rematch clause and that it would be the next fight for each boxer, taking place between September and December at a venue of Wilder's choosing.
"It's a great move from Deontay. It makes everyone say: 'You've got to take the fight now'," added Hearn.
"We really want to do the fight in the UK because we've built something special there.
"But if there's substantial money to do it elsewhere we will definitely look at it. In my opinion it's got to be in the UK or possibly Vegas.
"It's not a case of we sign the contract and they go and raise the money. If you've got it - show us it and then we can talk.
"I spoke to AJ - he knows the situation but we want to know if it's real. We want to see the money and know were it is.
"There's a real strong chance this fight could happen - we're not looking to be difficult."
Hearn said earlier this month that the WBA has ordered the Briton to enter into negotiations with mandatory challenger Alexander Povetkin.
Wilder added: "Tell Eddie Hearn to let you personally check his email this time. By the way, I sent your manager Rob McCracken the email as well.
"I am looking forward to our meeting in the ring."
Unbeaten Joshua added the WBO belt to his collection after a unanimous points win over Joseph Parker in Cardiff on 1 April, while Wilder beat Luis Ortiz in his last fight in March.
'Part bluster and part sense' - analysis
Steve Bunce, BBC Radio 5 live boxing
It's part bluster and part sense but it moves us closer to a unification fight.
If the Americans, that's Deontay Wilder's people, want any control they've got to come up with a big figure to try and wrestle Joshua away from his citadel - the stadiums in Great Britain.
I think they can find the cash because they'd make the money up in pay-per-view and not at the turnstiles.
That's what concerns Eddie Hearn though: how big would a venue be? How many tickets would be available for British fans and, what's more, when will it be?
We know they can do 90,000 at Wembley for Deontay Wilder sometime in September. What can the Americans do?
The money is irrelevant because this is going to generate something like $400m so the $50m sounds impressive but in the grand total it's not really that good.
It's all part of the contract and what Eddie Hearn needs to see.
Let's say Joshua wins and the rematch clause is exclusively for it to be in America, that means it stays in America and that's no good.
Joshua wants fights in Great Britain - it makes cash common sense and for the 248,000 people who have paid in the last 11-and-a-half months to see him fight.
Who would win? I'd lean on the first man to land a big serious shot. They could both knock each other out. The last time we saw Anthony Joshua people called it boring but I called it a master-class.
I think he starts as the favourite because he's the man who can go the distance and box, and that's crucial.