Anthony Joshua will beat Deontay Wilder - Froch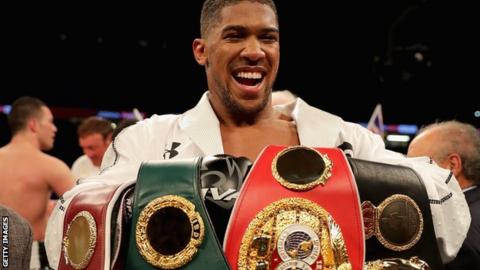 Britain's Anthony Joshua has the capabilities to beat undefeated American Deontay Wilder, says former super-middleweight champion Carl Froch.
Unbeaten Joshua, 28, unified the WBA, IBF and WBO heavyweight titles with victory over Joseph Parker last month.
Wilder, 32, is unbeaten in 40 bouts and has reportedly offered the Briton a $50m (£35.9m) unification fight.
Froch told BBC Radio 5 live: "I think Joshua beats Wilder. It's very tough, a hard fight, but I think he beats him."
Wilder knocked out the previously unbeaten Cuban Luis Ortiz in the 10th round in New York last month to extend his record to 39 knockouts from his 40 professional bouts, the first of which was in 2008.
Promoter Eddie Hearn insisted this week that Joshua wants to "see the money" before agreeing to Wilder's offer of a fight "in either London or Vegas".
Froch told BBC Radio 5 live's Friday Sports Panel: "It's just exciting - I want to see this fight but I don't think it'll happen next unless this 50 million can be substantiated because they'd be silly to turn that down I think.
"But I think Joshua would be too good for him and he'll beat him. Then when he's beaten Deontay Wilder the world's his oyster, he's undisputed heavyweight champion of the world.
"He can do what he wants, he can have a couple of steady defences and it quietens up all the critics and all the people that want to see him maybe get beaten or maybe be in hard fight, it quietens then, silences them down so I think strike whilst the iron's hot, the fight's there for him, if that 50 million is there for the taking, go and take it, go and win the fight."
Froch, 40, who suffered only two defeats in a 35-fight career which saw him win four world titles, said Joshua should focus on confirming himself as the world's best rather than financial matters.
"He's on the best platform and he's earning good money, but he earns the money because people want to see him fight, people pay to watch him fight. He's got to the point now where does he want to earn another 50 million or does he want to unify the division?
"I think he should be looking at unifying it and the money should be secondary.
Joshua added the WBA world heavyweight title to his IBF crown with a superb win against Wladimir Klitschko at Wembley Stadium last year, despite being knocked down in the sixth round for the first time in his career.
Froch believes that victory taught Joshua a great deal but added: "He has still got a lot to learn. He's unbeaten but he's hit the canvas, Klitschko put him over and maybe if Klitschko was a bit younger and had a bit more venom in his arsenal - he's a bit of a boxer rather than going for the finish, he doesn't go for that jugular when he's got his opponent hurt so he sort of let Joshua off the hook."
'Fury would give any of the heavyweights a really tough test'
Meanwhile, Froch would like to see Britain's former heavyweight champion Tyson Fury, who beat Klitschko to lift the title in 2015 before suffering from depression and accepting a two-year backdated doping ban in December, make a successful return.
The 29-year-old will fight again in Manchester on 9 June against an unnamed opponent and Froch observed: "I like Tyson Fury. Sometimes his comments can leave a sour taste in some people's mouths but he's certainly controversial, he doesn't sit on the fence, he tells it how he believes it.
"He wears his heart on his sleeve as well, he's been through some bad times and he's now coming back. He's looking good in the gyms, he's got a fight coming up soon and if he looks good and he convinces people that actually he can come back, he's only 30 years old and for a heavyweight that's relatively young, he would give any of the heavyweights a really tough test provided he looks like at least 80% of his former self.
"I'm not convinced yet because I've not seen him compete. He was out for over two years, he was up to 25 stone, he had mental health issues, there were other issues as well but hopefully he's put that all behind him. Tyson Fury is a really exciting addition to the heavyweight division and I hope he does come back."