Haye v Bellew: Tragedy has led Tony Bellew to 'most vicious point' of his life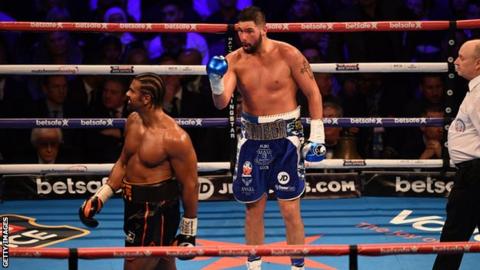 Tony Bellew says the death of a family member has led him to the most "vicious" point of his life as he prepares for his heavyweight rematch with David Haye.
On Saturday, Bellew will fight for the first time since beating Haye 14 months ago - his first bout since brother-in-law Ashley Roberts died in August.
"I've cried all the tears I can cry," Bellew, 35, told BBC Radio 5 live.
"It took a piece of my life and my wife and I will never get it back."
Speaking to 5 live's boxing podcast, Bellew opened up about the prospect of ending Haye's career and dealing with the loss of Roberts, who died on a family holiday in Mexico, aged 32.
He says dealing with grief left him "depressed at times" and he was not mentally ready to fight in December, when Haye pulled out of their heavyweight rematch with a biceps injury.
"I'd have ended up just going in, standing there and trading punches," said Bellew.
"It was the hardest thing I've ever had to deal with. When I think about the fight now it kind of gives me optimism, the thought of punching this clown in the face again.
"One thing is for certain, when I get in that ring I will not be found wanting. I will probably be at the most vicious point of my life because of the emotional turmoil I've been through."
'Violent chess and a fat Scouser'
Bellew says Haye "bent me over backwards" financially to make the first fight, but has conceded he earned double what he had for any other bout in his career.
This time he has a healthier share of the purse for the meeting at the O2 Arena, in what will be the former WBC world cruiserweight champion's second bout at heavyweight as a professional.
Haye - who held world titles at cruiserweight and heavyweight - has joined forces with renowned Cuban coach Ismael Salas for a fight he concedes could be his last if he loses again.
Bellew said: "He might bring a few slightly different things, but ultimately when it gets hot, sweaty and the rounds go on, he will revert to type.
"Boxing is violent chess. How good is your brain when you're put under pressure? This is the first time he is fighting for his career. I've done that four or five times.
"I know what pressure that brings. David will feel that for the first time on Saturday night.
"I have just got his number and know what I have to do. It will give me great satisfaction to say I was the man who ended the career of one of the greatest cruiserweights ever. It will haunt him forever that a fat, mouthy Scouser ended it."
'I need to quickly end the circus'
Haye, 37, has had Achilles tendon surgery on the injury sustained midway through his bout with Bellew and a biceps operation following his withdrawal from December's rematch.
He is the fourth rematch of Bellew's career - with the Liverpudlian winning the previous three.
The pair will come face to face for a first news conference of fight week on Monday evening in Bellew's home city, before the focus switches to events in London.
"I think the grieving will finish after the fight, when I'm finished with this circus," added Bellew.
"That's all this is. Boxing is just a circus and I am the act they want to watch for the weekend. I understand exactly what I am.
"It's amazing how all the same people who want me to be here or there for this circus didn't want to know 10 weeks ago or months ago when I was sitting, crying my eyes out.
"I don't know what I'll do on 5 May as I change from one minute to the next. Some days I just think I can't be bothered, let's have a fight.
"I really just want to get rid of him in the fastest way possible."