Bellew v Haye II: Predictions & coverage details ahead of Saturday's big fight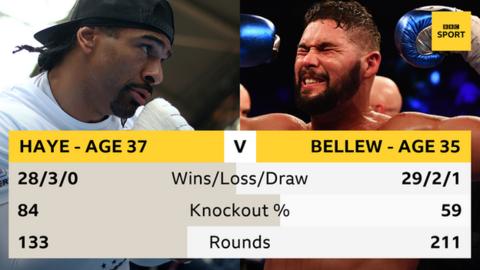 Bellew v Haye II
Venue: The O2 Arena, London Date: Saturday, 5 May
Coverage: From 20:00 BST - Follow live text commentary on the BBC Sport website and mobile app
David Haye expects his win will be "clinical" while Tony Bellew believes his mental strength will prove too much when the pair meet in a rematch organisers say is based on "pride" rather than money or titles.
On Saturday night at London's O2 Arena, a line will be drawn under a rivalry which has been a focal point in British boxing, so much so that around 750,000 signed up to watch them fight on pay-per-view 14 months ago.
On that occasion, Bellew stopped an injury-stricken Haye, who knows any result other than an impressive win will leave him staring at retirement.
In BBC Sport's big-fight preview, our boxing correspondent Mike Costello points to revenge, world heavyweight champion Anthony Joshua has his say and we tell you about the all-star Sunday league team Bellew is assembling for retirement.
'Haye will right his wrongs'
"I can't get out of my mind those opening five rounds last time where on all three scorecards Haye was 4-1 up," said BBC boxing correspondent Mike Costello.
"That's why this time around I am siding with Haye."
Haye's early work was destroyed when an Achilles injury in round six left him severely hampered, vulnerable and prompted surgery. More treatment has been needed on a biceps injury since, patching up a 37-year-old body which once ruled the cruiserweight division and claimed the WBA world heavyweight title.
"What I also noticed last time was that Haye warmed to the task," added Costello.
"In the fifth round - which is key in the analysis - he began to show his class, throwing jabs to the body, head, varying his attacks. He started to look like he was enjoying it. There is no doubt, for a man so rusty, he was beginning to get the feel of it."
Bellew, 35, - who pushed Haye at Thursday's news conference - has spoken of the pride he will take in leaving Haye with nowhere to turn in his career.
Both men are lighter than last time and have threatened a fight packed with speed rather than brawling.
Haye weighed in at 220lbs on Friday lunchtime, 4lbs down on the pair's last meeting.
Bellew had predicted his opponent would come in lighter, while conceding that poses him greater threat, so it was perhaps unsurprising he too scaled down by more than 3lbs to 210lbs.
"I am edging ever closer to it being an intriguing chess match," said 5 live boxing analyst Steve Bunce. "Haye might just do what everyone says he can't do and take his time for five or six rounds before stepping it up. I just fancy Haye on points."
'No more duck legs for Haye'
Bunce's analysis will fall in line with the plan Haye says his new trainer has mapped out.
Ismael Salas joined the Hayemaker camp following last year's defeat and the Cuban wants his charge to be spiteful early on, breaking Bellew up for the later rounds.
"I found Haye has so much ability and talent but he was using it in a bad way," Salas told BBC Sport. "He grew such confidence in his power that he lost lots of the technical ability he has.
"I look not so much at the punch but at the feet - any good building has a good basement. His right foot opened up like a duck, so his knee and his hip did too, so the power breaks down.
"I told him my work would not be like a trainer but in biomechanics, so I will correct it and then you use your own talent."
Bellew's trainer Dave Coldwell - who once formed part of Haye's team - has also made tweaks and has managed his fighter's emotions after Bellew lost his brother-in-law in a tragic accident in August 2017.
"Haye is 37 years old and not used to a hard fight," Coldwell told BBC Sport. "When was the last time he had one? If he wants it to be a long, hard fight at 37 years of age, bring it on."
From doorman, to champion, to Sunday league
A Haye win would see him target big names at heavyweight and both men know a trilogy of fights is unlikely.
"This time around may not be as controversial, it will be clinical," Haye told his rival on Thursday.
Bellew meanwhile is now the owner of 10 terraced houses he rents out thanks to his earnings last time out and admits he has hardly any time left in the ring.
A meeting with the winner of the World Boxing Super Series cruiserweight tournament - who will hold all four titles in the division by the end of this summer - could well be his final outing and he has admitted it is one he has thought about.
Saturday will prove key in deciding if a remarkable career ends in a flourish. Few could argue Bellew has given himself to boxing. A man who weighed 15 stone at the age of 15 somehow boiled himself down to 12st 7lbs to compete at light-heavyweight in his early 30s.
He also used to box before starting shifts as a doorman at a Liverpool nightclub and he worked shifts in a pillow factory in his early years in the ring.
What has followed has seen him win 29 of his 32 bouts, claim a cruiserweight world title and star in Hollywood movie Creed.
Addressing his rival, Bellew said: "When you look at me you look at someone who is far mentally stronger than you."
With an eye to the future, Bellew has now become passionate about golf and sees it as an outlet which will help him adapt to life after boxing.
The Everton fan also hopes to rekindle his prolific form as a striker in Liverpool's Sunday leagues. He has already asked the likes of close friend and Bury midfielder Neil Danns, ex-Everton midfielder Leon Osman and Fleetwood boss Joey Barton to sign up.
'Haye is a shell of himself' - What they said...
Tony Bellew's promoter Eddie Hearn: "Bellew was a huge underdog first time, now the bookies can't split them. I'm not sure I've been more confident going into a 50-50 fight.
"It's a wonderful career Haye has had but I believe it ends on Saturday night and Tony Bellew goes on to get the credit he deserves."
Richard Schaefer - part of Haye's promotional team: "Some fights are made for money, some for titles and some for pride. This is one of those for pride. As fight fans, you are always in for a treat when you see a fight made for pride."
WBA, IBF and WBO world heavyweight champion Anthony Joshua: "I feel that Bellew will do it again. He has real confidence going into this fight. I can see that in him. He did it once and he believes he can do it again."
Rio 2016 bronze medallist Joshua Buatsi, who fights on the undercard: "I always go with activity levels. Bellew has been a lot more active so I will lean towards him. Haye is a world-class fighter and this is one where you can't blink because anything can happen. "
Former British and European middleweight champion Matthew Macklin: "When they first fought I didn't give Bellew a 5% chance. But even before his injury, I thought Haye looked a shell of himself.
"I think he will be better mentally this time but I just think he's shot. He's injured and his timing is way out. The only way you get that back is with a lot of sparring and I highly doubt he has done a lot of sparring. Even at the media workout he looks like his legs have gone."
'Butler fails to make weight' - The undercard
Saturday's undercard will see the likes of Luke Campbell, Buatsi and heavyweight Joe Joyce - who is managed by Haye - look to build momentum.
Campbell will have a tune-up bout as he prepares to face Yvan Mendy - one of only two men to beat him - this summer, while Joyce challenges Lenroy Thomas for the Commonwealth title.
Chief support was supposed to be Liverpool's Paul Butler, who was looking to win the IBF world bantamweight title for the second time against unbeaten Puerto Rican Emmanuel Rodriguez.
However Butler was over the 118lbs limit at Friday's weigh-in and under IBF rules was given two hours to lose the weight. He failed to return to the scales, though, so cannot fight for the belt.
"I know failing weight in my biggest fight to date looks unprofessional and I understand the stick I'm getting," Butler wrote on Twitter.
"I'm gutted and heartbroken that I can't win that world title tomorrow, but I didn't fail it without trying - I'd never do that."