Luke Campbell: British boxer vows to make amends in possible Yvan Mendy rematch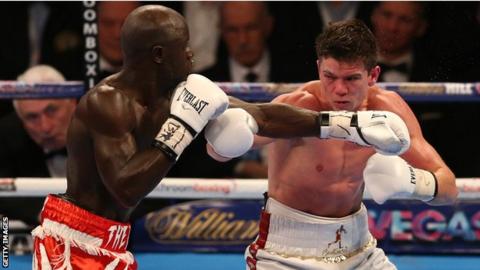 Luke Campbell has vowed to right the devastation caused by his 2015 defeat to Yvan Mendy if the pair meet in a summer rematch.
Lightweight Campbell, 30, expects to take the Frenchman on in a bout the WBC have ordered, with the winner getting a world title shot.
It is a bout he wants in order to avenge what was his first career loss.
"I didn't want to leave the house after it, I was embarrassed at myself," Campbell told BBC Sport.
"I was totally devastated. I was ill that night and should never have got in the ring. I didn't really have a team around me, with no proper coach or guardians.
"I'm a proud man who sacrifices everything and then I got in there when I wasn't ready physically or mentally. Then you get stick from people for trying. People here sometimes love to see people fail, I don't get it."
In a wide-ranging interview, Campbell opened up to BBC Sport about the months that have followed the death of his father Bernard in September, two weeks before his points defeat when taking on Jorge Linares for the WBA world lightweight title in California.
He now sees another route back to a second world title shot if he beats Mendy. His team is negotiating the fight and there is a chance that if current WBC champion Mikey Garcia gives up his title, the bout could ultimately be for the belt.
"I'm a different fighter now, physically, mentally and on boxing ability to when I faced Mendy," added London 2012 gold medallist Campbell.
"I'm a confident person now. For some reason back then I never had confidence in myself, which is crazy given what I'd achieved.
"With the Olympics and shooting for a world title with my dad passing, I know now I'm one of the strongest minds out there."
'I struggled big time'
Campbell kept his father's death away from the media for the two weeks prior to his US bout with Linares and broke his silence to BBC Sport less than 24 hours afterwards.
He admitted he spent much of fightweek in tears behind closed doors and after a narrow defeat, returned to the UK to turn 30, bury his dad and move to a new family home within the space of a week.
"When I got back to England from the Linares fight, from September to January I really struggled big time," added Campbell.
"Christmas brought back emotions and memories. I had a lot of anger that I am not too proud of. I'm dealing with it in my own way but some things you just can't shake easily.
"I blanked it out before fighting Linares but when it's one of your own parents there are so many memories. Happy moments through the sport of boxing, my dad picking me up at the boxing gym and bringing the dog with him, taking me for a run after school, these all come flooding back.
"I couldn't open up about it before the fight because I didn't know what it would do to me."
Focus back on the UK
Campbell feels the move to a new home has given him the foundation to now simply focus on boxing, so much so he is considering training in the UK for fights again having spent over two years going through his camps in the US.
He insists he will not move up in weight class until he becomes a world champion and is hopeful promoter Eddie Hearn will ensure his bout with Mendy and any forthcoming world title shot will be on UK soil as he has already travelled to take on Linares - regarded as one of the world's best pound-for-pound fighters.
He added: "Am I really one of those who has to go to everyone else's back garden to get a fight? I believe I'm bigger than that really.
"We have made Mendy's team offers. I don't think they have accepted it so it's going to purse bids. I'm sure Eddie will win the bid and we can look to have the fight here.
"I've never had it easy and I don't want to fight a world champion no-one knows. I always do it the hard way and will continue to do it the hard way. I don't get things gifted to me."
The lightweight division is bursting with talent, highlighted by the fact Linares defends his title against Vasyl Lomachenko this weekend. The Ukrainian challenger could win a world title in a third weight class in what is just his 12th professional bout.
The competitive nature of the division prompted Campbell to stay active with a tune-up stoppage win over Troy James on Saturday, despite giving away 11lbs in weight.
"It was good to get out there again, making weight, getting ring rust off," he added.
"Yesterday's news is forgotten, and people do forget about you. It goes quiet so this is why I was saying it's too long now and I need to make some noise, show myself and everyone else I am one of the best in world."