Nicola Adams: 'It's hard to focus when your mum is sick'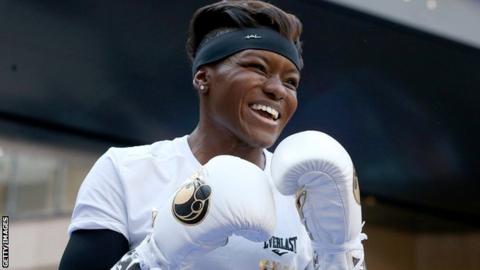 Lee Selby v Josh Warrington
Date: Saturday 19 May Venue: Elland Road, Leeds
Coverage: Live commentary on BBC Radio 5 live from 22:00 BST and live text updates on Nicola Adams's fight on BBC Sport website from 20:00 BST.
It has been a year to endure rather than enjoy for double Olympic champion Nicola Adams so far.
When the boxer steps into the ring on Saturday night there will be just one face she will scan the Elland Road crowd for, her mother Dee.
Because while Adams has been sparring in her San Francisco gym she has also been supporting her mother in her toughest fight, a battle against breast cancer.
The bout - undercard on the Elland Road bill that sees Josh Warrington challenge Lee Selby - follows a testing few months for Adams after she was forced to switch her boxing trainer and went through a high profile break-up from her partner, fellow professional fighter Marlen Esparza.
Ahead of her biggest test as professional fighter, a 10-round meeting with three-time world title challenger Soledad del Valle Frias, Adams has had plenty of time to reflect on one of the most testing periods of her life.
A tough start to the year
Bad things come in threes, the adage goes, so you can forgive the 35-year old London 2012 and Rio 2016 Olympic champion if her preparations for this fight have felt secondary to other matters.
"It's hard to focus on anything when your mum is sick and it means absolutely everything to me that she will be there ringside on Saturday," Adams explained.
"I will be wearing a breast cancer awareness badge on my shorts to help raise awareness and yes, I just want to do everything I can for her, basically.
"My mum was ringside when I won both of my gold medals and I'm used to her being there, so it means a lot she will be on Saturday too.
"She's having treatment at the moment and it is all going well. It has not been ideal for preparation though."
Since turning professional Adams has been working with renowned coach Virgil Hunter, but that has not been possible ahead of this contest.
Hunter is suffering with an unknown illness and Adams has switched camps to work with Nonito Donaire, whose son of the same name is the five-weight world champion and most recently fought Carl Frampton.
"Yeah I've had to switch trainers, it was a blow to everyone at the gym when Virgil Hunter became sick, but luckily I've landed on my feet with Nonito Donaire," Adams explained.
He's a really good coach, his son is a multiple world champion and he's specifically been working on power punching with me.
"Hopefully I'm able to put that to good use on Saturday night."
In terms of the break-up of her relationship, Adams believes it is important to shy away from what is written and said when you are in the public eye.
"You can't get too taken away by what is being written about you in the media and on social media, luckily that is not something I have ever really done," she said.
"I always keep focused on the task at hand and that's what I've been doing.
"The interest in my personal life is unavoidable, for as long as I am boxing it is always going to be there. I've got to stay focused, which I do, and stay on the task in hand."
Unifying the flyweight division by 2020?
A late starter in the paid ranks due to her glittering amateur career, Adams made headlines this week for saying she expected to retire from boxing within two years.
However, Adams told BBC Sport that the 24 month period is very much a personal target and that she will not rule out fighting on to try and win world titles at multiple weights.
"I have been a flyweight fighter since the Olympics and I need to take it one step at a time. I would like to be a multiple weight world champion, but first I need to get my division unified and out of the way before I move onto conquering the next goal," she said.
"I want to do the most I possibly can.
"I am more scrutinised in what I say now, but when I said that I wanted to be a multiple weight world champion I meant it, but I've just got to do it a belt at a time.
"It's a target for me, it's just my aim and I do think I can do it all in two years. It's not necessarily that I want to retire at that point; I just think it's doable and I have the capability to do that. If it takes longer, who knows… but I think I can do it in two years."
But first she needs to beat Valle Frias in her first ten round contest.
"It's a stepping stone fight, it's that fight to push me on to world level, this is what I want to do, show that this is the level I belong at, because it's where I want to be," Adams added.
Homecoming to Hollywood
Adams' eyes light up at mention of fighting at Elland Road, a venue she visited as a child to watch Leeds United in their Premier League pomp.
As a role model for women's boxing and a proud ambassador for her city, there is plenty at stake for Adams besides the fact that a win in this fight that will more than likely lead to a world title shot in her next contest.
"This is going to be huge, I'm really excited, I can't wait to go in there and perform and in a sense it's like the Olympics in terms of the size," she said.
"It means everything to me, this is great opportunity to showcase women's boxing, Frank Warren and his team have shown great faith in me, putting me on as the chief support and I want to show the reason why I'm in the position I am.
"It's nice to be stepping back into the ground and thinking that this time I'm not going to be watching from the stands, I am going to be participating.
"I need to look good so I can start chasing those titles."
While dealing with the fame earned at successive Olympic Games can be a distraction for Adams when her personal life is tabloid news, she admits there is a definite upside to it, especially as she is planning to switch her focus to acting when she quits boxing.
"Yeah definitely (the fame would help), I'm already a double Olympic champion, I've achieved everything I wanted to win as an amateur and then I would love to be able to do the same as a professional," she said.
"Then hopefully I can go and conquer Hollywood and make some new goals there! That's the aim, that's the plan."