Lee Selby: Welshman wanted big payday before Josh Warrington loss
By Michael Pearlman
BBC Wales Sport
Last updated on .From the section Boxing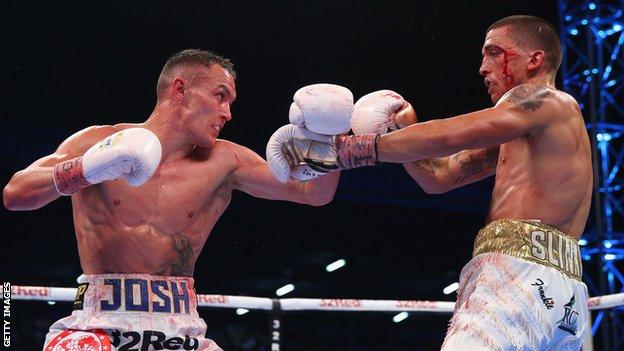 Welsh boxer Lee Selby says making the featherweight weight limit has "taken its toll" and he only stayed in the division for "a big pay day".
Selby said he would not fight at the nine-stone level again and instead pursue a title at a heavier weight.
"I lost and I think it is time for me to move up the weights," Selby told BBC Radio Wales.
Selby, who was cut above both eyes by accidental head clashes inside the first six rounds, could not recover from a superb start by Yorkshireman Warrington, who took a stunning split-decision victory contest 116-112 115-113 113-115.
Having been an overwhelming favourite heading into the fight, Selby now admits it has been a long time since he has boxed at his best, despite successful title defences against Fernando Montiel, Eric Hunter, Jonathan Victor Barros and Eduardo Ramirez, since winning the title in 2015.
Defeat was the second of Selby's career as Britain's longest-reigning world champion lost in his fifth defence.
"I am 31 and getting to the nine-stone limit has obviously taken its toll over the years," said Selby.
"I think it's shown in my last few performances - they have been well below par, well below the standards I set for myself.
"Luckily I've scraped through with my fitness and my skillset, but it was just a matter of time."
Selby was tipped for a summer showdown with Carl Frampton had he been victorious in Leeds, and says it is the prospect of a big pay day that has kept him in the featherweight division.
"I had to stay in the featherweight division because of the high profile and big-money fights that were waiting for me if I got past that last fight," he said.
"But unfortunately I didn't, so now I've got to try and win a world title at a different weight.
"My average weight walking around is 11 and a half stone, around Christmas I was almost 12 stone, so getting down to nine is a big drop for me."
Vision issues made it harder to adapt
Selby's defeat prompted criticism from ringside observers, including domestic rival Frampton and BBC Radio 5 live summariser Steve Bunce.
"I think Selby and his team need to go away and re-evaluate - they all take a bit of the blame. Selby never adapted, never changed tactics. His body language was wrong and he was constantly complaining," Frampton said.
Bunce added: "The Selby camp need to be taking some long, hard looks at themselves. How did they get it wrong for so many rounds?"
However, Selby says the problems he faced on the night were because of the issues he had making weight and the cuts above both eyes that made it hard for him to see.
"It was disheartening, no-one wants to lose," he explained.
"I was unfortunate to get caught with a clash of heads early on, so I had a bad cut above my eye and the blood was running into my eyes, so I could hardly see during the fight.
"But I will crack on and get another world title."